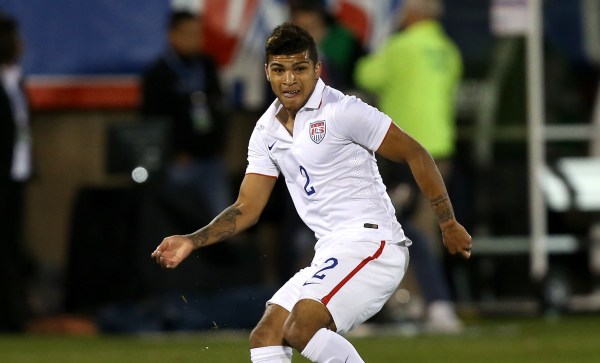 By RYAN TOLMICH
WASHINGTON – For DeAndre Yedlin, the past few months have provided a multitude of emotions: confusion, anticipation, frustration. But now, after Tuesday's news, a new one has emerged: relief.
Yedlin was informed Tuesday that he would be going on loan to Sunderland in a move that will give the U.S. Men's National Team fullback a chance to earn valuable minutes in the English Premier League.
Tuesday's announcement proved soothing for Yedlin, who has spent the past few months playing the waiting game with regard to his club future. Would he continue developing with Tottenham or seek time elsewhere? Would he have to up and move out of his newfound home in England or was a move within the country in the cards?
Those questions were all answered this week, finally giving Yedlin a chance to exhale and look forward to a more certain future.
"This last month has been tough," Yedlin said Wednesday ahead of training with the USMNT. "It's been pretty stressful because there have been so many teams that have come up and then gone, and a lot of it is kind of out of my control. That was tough, but I'm relieved its over.
"(It's) huge, especially since I'm staying in the Premier League," Yedlin added. "I think it's a league that you really have to get used to. If you're coming from another one, it's a tough league. I think, just getting the experience and playing with a Premier League team and, hopefully, getting consistent games, that will be huge for me."
Forced to play the waiting game for the duration of the transfer window, Yedlin's big move was sealed fairly late.
Awoken by a text from his agent on Tuesday morning, Yedlin was informed that a move to Sunderland could be in the cards ahead of USMNT training. From there, Yedlin awaited confirmation from Tottenham before officially signing as a Sunderland player shortly before joining his team on the field.
With the ink dried, Yedlin was quick to ask his USMNT teammates for advice on the move, with two teammates in particular proving to be a guiding presence.
In Jozy Altidore, Yedlin knew a player familiar with Sunderland. Yedlin says Altidore shared plenty of praise for the club's fans and atmosphere, while advising the USMNT speedster to keep his head down and stick to what got him there.
Meanwhile, Aron Johannsson flourished under Sunderland manager Dick Advocaat during his tenure with AZ Alkmaar, leading the USMNT forward to praise the manager's demeanor.
With that in mind, Yedlin now knows he can focus on his improvements, both on and off the field.
"Definitely, definitely," Yedlin said when asked if he's grown in recent months. "Not only that, but I grew off the field as well. I had to live by myself in a different country and I know they speak the language, but it's a lot different living there.
"Now I feel settled and I feel like I've improved on the field, but off the field as well. I'm ready for this next challenge."
In the eyes of Jurgen Klinsmann, Yedlin's next challenge is finding the field consistently. Having played just one game with Tottenham, Yedlin has yet to regularly experience the play of actual Premier League games, an opportunity much more likely to be afforded to him at Sunderland.
While Yedlin says that he is unsure if the club sees him as more of a fullback or midfield prospect, Klinsmann is just happy to see Yedlin get a chance, as the USMNT coach hopes to see Yedlin tested more and more with more playing time as his Premier League career rolls on.
"We're very pleased because it, hopefully, gives him more playing time," Klismann said. "It looked pretty much that he wouldn't get that playing time with Spurs because of their roster situation.
"With a move to Sunderland, things open up for him and, hopefully, they give him the opportunity to be on the field and play Premier League minutes. That's why we're happy for him."
Klinsmann's happiness is matched, if not exceeded, by Yedlin's.
Yedlin says he expects to remain with the USMNT for the upcoming pair of friendles before jetting off to Sunderland to join his new club and introduce himself to his new teammates.
With the potential for a new beginning on the horizon, Yedlin is just looking to get going and continuing his growth as a player and a person.
"It's just that I had the opportunity to get playing time," Yedlin said. "Obviously, they're a little bit lower on the table, and of all the parties that were involved, it just felt like a good place for me to go. It just felt like it was right.
"With the opportunity, I'll be able to get playing time. I'll be able to get in a groove playing and I'm looking forward to it."