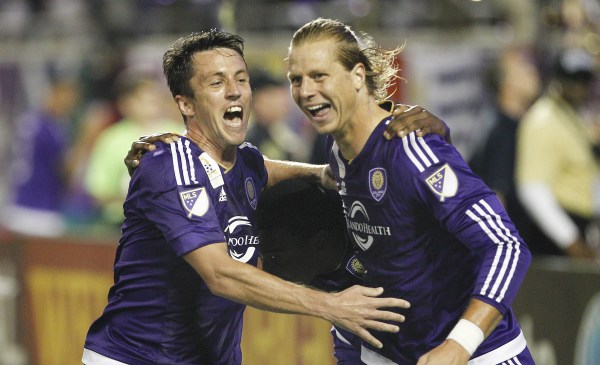 Photo by Reinhold Matay/USA TODAY Sports
By MIKE GRAMAJO
ORLANDO, Fla. — Brek Shea missed Orlando City SC's past 11 games and didn't like one moment of it.
That absence was short-lived when Adrian Heath inserted the winger in the 61st minute during Orlando City's 3-1 victory over Sporting Kansas City on Sunday evening at the Citrus Bowl.
With Orlando tied 1-1 against the visiting Sporting KC side, it was Shea who lit a spark in the Lions' attack, assisting the game-winning goal in the 65th minute when he set up Bryan Rochez with an open ball to slot past Jon Kempin.
Shea, who was recovering from a sport hernia, missed nearly two months of action. And with playoff hopes slowly fading away upon entering Sunday's match, the American international contributed heavily despite the absence of Brazilian star Kaka.
"It's not fun," Shea said on being out for roughly two months. "Especially when things aren't going our way. I want to be out there and do everything I can to help the team. And on the sidelines you can't do anything but give the guys good luck, but I was excited to be out there tonight.
"I've been out a while, but I'm really excited to be back," added Shea. "I felt fine which is the best for me. Injuries are never fun no matter if it's big or small. To come back and play my first game injury free, it's a big plus for me."
The former FC Dallas attacker started the season playing an unfamiliar position at left back. That wouldn't last long when Heath inserted Shea into a more familiar role at left wing.
Shea's two-month absence witnessed Orlando City suffer a brutal summer, which saw the Lions win once in their last 11 games. The run of bad results placed Adrian Heath's men outside of playoff contention and left Orlando City chasing that last spot with five games remaining in the regular season.
"He gives his teammates a lift," Heath said on Shea's return. "He's a good player. The playoffs was the goal, the playoffs is still the goal. I think we'll be well above that red line had we kept our best players fit all season. It's just good to have him back, he gives us an extra eye-dimension. He can win things in the air, he can run behind people, he could create things. We'll be a better team for having him fit and well."
Shea's return might come at the right time, but for an Orlando City side that's endured its fair share of injuries, especially with Kaka, Darwin Ceren, Corey Ashe, Kevin Molino and Conor Donovan, only time will dictate where Orlando City will be come late October.
Orlando City faces a new task where Shea's MLS experience will come in handy. First up, a trip to Toyota Park when they play the Chicago Fire on Saturday. Then, the New York Red Bulls welcome Orlando City on Sept. 25 at Red Bull Arena.
OCSC's next home game on Oct. 3 will see the Lions host the Montreal Impact, who are currently occupying the last playoff spot in the Eastern Conference.