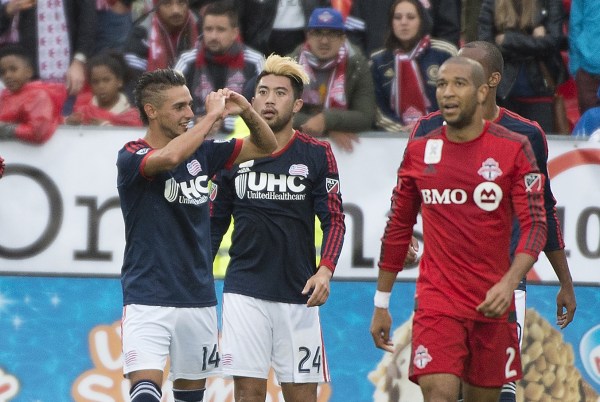 Photo by Nick Turchiaro/USA TODAY Sports
By SBI SOCCER
There seems to be no stopping the New England Revolution as the 2015 MLS season winds down.
The red-hot Revs increased their win streak to five with a 3-1 victory against Toronto FC Sunday evening at BMO Field.
Once again, Lee Nguyen was the facilitator on the day, setting up two goals, but the result was more a result of a strong group effort than one player's dominance.
With the win, New England distanced the gap from fifth to fourth in the Eastern Conference, sitting six points ahead of Toronto FC and just one point behind the third-place Columbus Crew.
Both sides had dangerous opportunities to score throughout the first 45 minutes, but the Revolution forced TFC into a hole early. In just the fourth minute, Jermaine Jones slipped a beautiful through ball behind the TFC back line and into the path of Teal Bunbury. The forward's low cross did not find the feet of any Revolution attackers, but it did find defender Damien Perquis, who scored an own goal.
The Revolution would make that hole even bigger in the 39th minute. Nguyen teed up Diego Fagundez at the top of the box, and the 20-year-old Uruguayan finessed the ball into the back of the net.
Jozy Altidore and Sebastian Giovinco combined moments after halftime, but the Italian international's chip shot did not bounce over the line. However, in the 55th minute, TFC finally found an answer, as Robbie Findlay rose high to head in a Justin Morrow cross from the left wing.
That momentum faded away, though, 16 minutes later. Michael Bradley held possession in his own penalty area, and Nguyen wrestled the ball away from the U.S. Men's National Team captain. Kelyn Rowe was there at the right time and quickly blasted a shot into the TFC goal.
Toronto FC ended the game up 21 to seven on shots attempted, but the Revolution would leave the happier side with all three points.
The Revolution must now focus on the New York Red Bulls for Wednesday before their meeting with the Montreal Impact Saturday. Toronto FC will play New York City FC and the Colorado Rapids those same days.