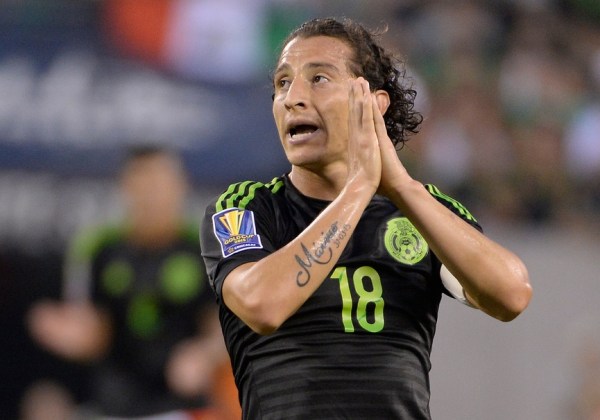 By SBI SOCCER
With less than a month to go until its CONCACAF Cup match against the U.S. Men's National Team, Mexico is hoping that will be enough time for captain Andrés Guardado to fully recover from an injury he suffered on Tuesday.
The 28-year-old midfielder, playing for his club team PSV Eindhoven in its UEFA Champions League opener against Manchester United, severely rolled his ankle after being fouled by Manchester United's Chris Smalling around the 72nd minute. He left the match soon after.
The severity of Guardado's injury is still unknown, but reports in the Netherlands stated Guardado went to a local hospital to have the ankle examined.
(UPDATE– PSV Eindhoven announced that Guardado has ligament damage in his left ankle, but is waiting for the swelling to subside before having a second scan on his ankle to determine the severity of the injury.)
El Tri will be hoping it's not too serious an injury so it can have the 2015 Gold Cup Golden Ball winner time to recover ahead of the Oct. 10 clash against the U.S. at the Rose Bowl.
Here is video of Guardado's injury: