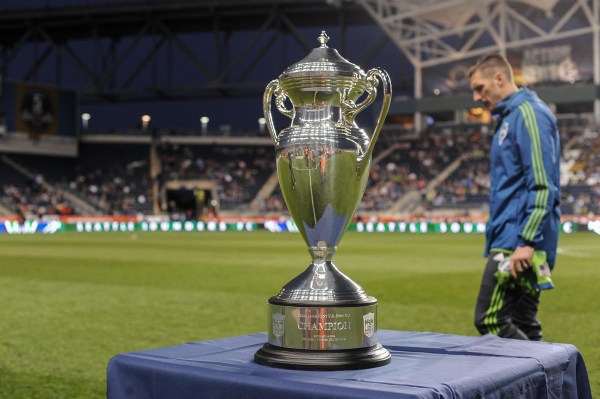 Photo by  John Geliebter/USA TODAY Sports
By SBI SOCCER
The Lamar Hunt U.S. Open Cup final between the Philadelphia Union and Sporting Kansas City is just around the corner, but U.S. Soccer is already looking ahead.
U.S. Soccer announced pairings for all 56 teams that had entered to participate in the First Round of the 2016 Lamar Hunt U.S. Open Cup competition on Monday. The first games will kick off on Oct. 17 and the round will end on Oct. 25.
Winners of the First Round will then compete against each other in the Second Round on Nov. 14-15 and Nov. 12-22.
The team from the Open Division, which includes all teams not in MLS, NASL and USL, to advance the furthest in the tournament will receive a cash prize. In 2015, PSA Elite advanced the furthest out of any other team outside of Divison I, II and III, and it received a $15,000 prize.
Here are the possible Second Round pairings, and below are the First Round matches from across the country:
OCT. 17 (HOME TEAM LISTED SECOND, ALL TIMES EASTERN)

12 p.m. — Southie FC (Roxbury, Massachusetts) vs. Battery Park Gunners (Roxbury, Massachusetts)
2 p.m. — Salone FC (Philadelphia, Philadelphia) vs. Vereinigung Erzgebirge (Warminster, Philadelphia)
3 p.m. — Tartan Devils Oak Avalon (Pittsburgh, Pennsylvania) vs. Aromas Café FC (Charlottesville, Virginia)
5 p.m. — Newport FC (Portsmouth, Rhode Island) vs. Worcester FC (Auburn, Massachusetts)
6:30 p.m. — West Chester United (Wayne, Philadelphia) vs. Junior Lone Star FC (Drexel Hill, Pennsylvania)
7 p.m. — South Jersey Elite Barons (Hammonton, New Jersey) vs. Jersey Shore Boca (Bayville, New Jersey)
7:30 p.m. — Newtown Pride FC (Sandy Hook, Connecticut) vs. Lansdowne Bhoys FC (Bronx, New York)
OCT. 18
10 a.m. — Boston Olympiakos FC (Boston, Massachusetts) vs. Global Premier Soccer (GPS) Omens (Wayland, Massachusetts)
3 p.m. — Maryland Bays (Elkridge, Maryland) vs. Dulles Sportsplex Aegean Hawks FC (Boyds, Maryland)
6 p.m. — New York Pancyprian Freedoms (Jamaica, New York) vs. New York Greek American SC (Maspeth, New York)
OCT. 24
4 p.m. — NTX Rayados (Dallas, Texas) vs. Austin Real Cuauhtemoc (Georgetown, Texas)
6 p.m. — Red Force FC (Pembroke Pines, Florida) vs. Uruguay Kendall FC (Pembroke Pines, Florida)
7:30 p.m. — Colorado Rovers (Commerce City, Colorado) vs. Harpo's FC (Commerce City, Colorado)
9 p.m. — La Maquina (Lake Forest, California) vs. Strikers FC South Coast (Lake Forest, California)
10 p.m. — Chula Vista FC (Chula Vista, California) vs. Temecula Football Club (Temecula, California)
10 p.m. — KC Athletics (Overland Park, Kansas) vs. I.P.S. (Portland, Oregon)
10 p.m. — San Nicolas FC (Chino, California) vs. Corinthians USA (Rialto, California)
10 p.m. — Footballers Academy (Irvine, California) vs. San Pedro Monsters FC (San Pedro, California)
10:30 p.m. — Del Rey City SC (Playa Del Rey, California) vs. LA Wolves FC (Manhattan Beach, California)
OCT. 25
2 p.m. — Tobacco Road FC (Raleigh, North Carolina) vs. CD Motagua of New Orleans (New Orleans, Louisiana)
3 p.m. — Davis Legacy (Davis, California) vs. International Fútbol X-Change (IFX) Ballistic (Livermore, California)
3 p.m. — El Farolito (San Francisco, California) vs. San Francisco City Football Club (San Francisco, California)
4:30 p.m. — Boca Raton Football Club (Boca Raton, Florida) vs. Real Miami Club of Football (North Miami, Florida)
5 p.m. — Valley United SC (North Hills, California) vs. Cal FC (Agoura Hills, California)
6 p.m. — Outbreak FC (Long Beach, California) vs. Buena Park FC (La Palma, California)
7 p.m. — Charlotte Sporting Soccer Academy FC (Charlotte, North Carolina) vs. Queen City United FC (Charlotte, North Carolina)
7 p.m. — Colorado Rush (Wheat Ridge, Colorado) vs. FC Boulder (Boulder, Colorado)
7 p.m. — Real Sociedad (Bellflower, California) vs. Ozzy's Laguna FC (Monterey Park, California)