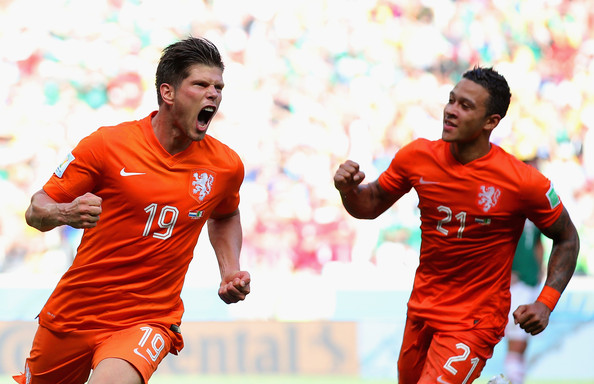 By COLE KELLOGG
The international break is in full swing, with qualifying rounds of multiple international tournaments dominating this Sunday's action.
But fans of Major League Soccer need not worry, because the night will still end with a Soccer Sunday showdown in Columbus.
Today, watch the Netherlands travel to Turkey in a must-win match. After a disappointing 1-0 home loss to Iceland on Thursday, Danny Blind's side needs three points to remain in third place and have a chance to qualify for Euro 2016.
In the evening, tune in as the Columbus Crew host FC Dallas in the day's only MLS match. Greg Berhalter will be hoping Federico Higuain and company can extend their winning streak to three matches at MAPFRE Stadium. Meanwhile, Oscar Pareja and FC Dallas will push for a much needed road result after losing three of their last four games. It doesn't look good for Dallas, though, as five players are out on international duty and Mauro Diaz is suffering an injury setback.
Enjoy the action (today's soccer on TV schedule after the jump):
SUNDAY
9 a.m. — beIN Sports Connect — Zimbabwe vs. Guinea
9:30 a.m. — beIN Sports en Español — Lesotho vs. Algeria
9:30 a.m. — beIN Sports USA — Chad vs. Egypt
10:30 a.m. — beIN Sports USA — Gambia vs. Cameroon
11 a.m. — ESPN3 — North Carolina vs. USC
Noon — Fox Soccer 2Go — Latvia vs. Czech Republic
Noon — ESPN2/ESPN Deportes TV — Turkey vs. Netherlands
Noon — Fox Sports 2/Fox Soccer 2Go — Wales vs. Israel
Noon — Fox Soccer 2Go — Malta vs. Azerbaijan
Noon — ESPN3/WatchESPN — Norway vs. Croatia
1 p.m. — beIN Sports USA — Libya vs. Cape Verde Islands
2:45 p.m. — Fox Soccer 2Go — Iceland vs. Kazakhstan
2:45 p.m. — Fox Sports 2/Fox Soccer 2Go — Bosnia and Herzegovina vs. Andorra
2:45 p.m. — ESPN3/WatchESPN — Cyprus vs. Belgium
2:45 p.m. — ESPN Deportes TV/ESPN3 — Italy vs. Bulgaria
4 p.m. — ESPN3/WatchESPN — Edmonton vs. Minnesota United
7 p.m. — Fox Sports 1/Fox Sports Go/Fox Deportes — Columbus Crew vs. FC Dallas