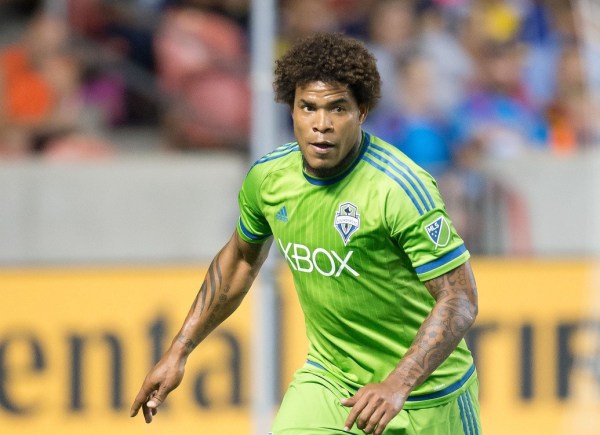 Photo by Russ Isabella/USA Today Sports
By SBI SOCCER
The Seattle Sounders' push towards the postseason became a bit tougher on Monday with the confirmation of a serious injury.
The Seattle Times has reported that Sounders defender Roman Torres will miss the remainder of the season after suffering a knee injury in Saturday's 1-1 draw with the San Jose Earthquakes. The Panamanian centerback landed awkwardly on his left knee while leaping to head away a corner kick just before halftime in the match, and was substituted out of the match immediately despite leaving the field on his own power.
Torres signed with the Sounders on Aug. 12 and was widely seen as one of the league's most impressive summer signings. A standout for Panama, Torres is considered to be one of the top central defenders in CONCACAF.
The 29-year-old made just four starts for the Sounders before suffering the injury, registering an assist in his debut on Aug. 16. With Torres in the lineup, the Sounders collected seven points from four games.
Brad Evans and Zach Scott seem the most likely replacements for Torres in Seattle's lineup.
What do you think of Torres' injury? How will the defender's absence impact the Sounders? Who would you replace him with in the lineup?
Share your thoughts below.