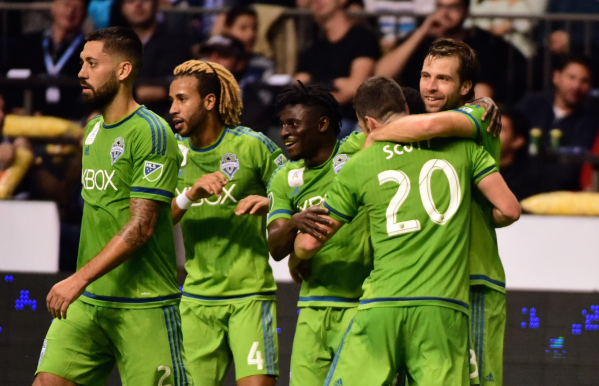 By SBI SOCCER
The Seattle Sounders are officially back in the conversation about best teams in MLS.
Just three weeks after there were questions of whether the Sounders would even make the playoffs, Seattle has climbed back toward the rarefied air of the Western Conference. The Sounders pushed their unbeaten streak to four after posting a 3-0 thrashing of the Vancouver Whitecaps on Saturday at BC Place. A victory that helped Seattle secure the 2015 Cascadia Cup.
Obafemi Martins scored a goal and set up another while the Seattle defense rebounded well to the loss of injured starter Roman Torres to coast past a Whitecaps side playing without standout midfielders Pedro Morales and Matias Laba.
The match started out even, but all three Seattle goals came after the first 44 minutes, with an Andreas Ivanschitz finish of a Martins pass just before halftime setting the tone. Martins delivered a perfect lofted pass to the left flank, where Ivanschitz slipped behind Jordan Smith for the finish.
Vancouver did have scoring chances, but couldn't put one past Stefan Frei, who finished the night with eight saves.
Vancouver's disappointing finishing allowed the Sounders to stay in control, with Osvaldo Alonso and Gonzalo Pineda winning the battle in the middle against a Whitecaps midfield forced to start Mauro Rosales and Russell Teibert in place of Morales and Laba.
Pineda made it 2-0 in the 71st minute when he finished off a classy passing sequence that included a setup by Dempsey, who found Pineda in the penalty area, where Pineda shuffled past Jordan Smith before slotting his shot past David Ousted.
Dempsey helped create the final match of the night when he muscled passed Teibert before laying off a pass to a wide-open Martins in front of goal for an 88th-minute insurance goal.
The loss kept Vancouver from extending its lead atop the Western Conference, but losses by FC Dallas and the LA Galaxy mean the Whitecaps still sit on top of the Supporters Shield' race. They return to action on Sept. 26 at home against a suddenly resurgent New York City FC.
The Sounders remained in fourth place despite the victory, but did close ground on the three teams ahead of them. They are now just two points behind second-place FC Dallas and third-place LA Galaxy. The Sounders return to action on Sept. 27 with a road trip to take on Sporting Kansas City.