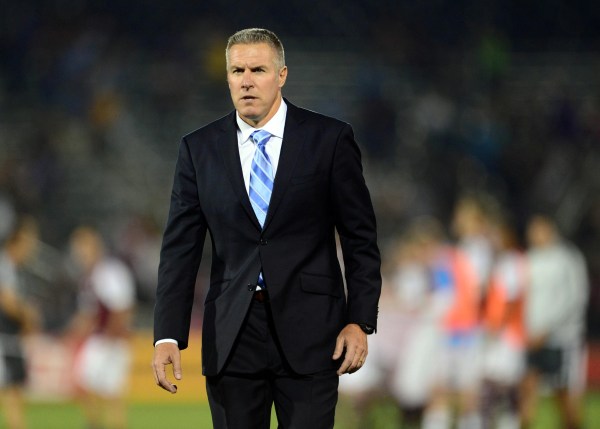 Photo by Ron Chenoy/USA TODAY Sports
By RYAN TOLMICH
Tasked with battling through a cup final on the road, Sporting KC head coach Peter Vermes knows full well what stands between his side and a second U.S. Open Cup in three years.
Sporting KC travels to PPL Park for tonight's U.S. Open Cup final against the Philadelphia Union, a team that Vermes is not taking lightly despite their place in the standings. Although an 11-point gap separates the two sides on the MLS table, Vermes knows his team will be up against it in the club's quest for yet another major trophy.
"I think in this league, one of the things you have to be able to do as that you have to be able to play away from home," Vermes said via conference call. "With the fact that this game is being played this late in the season, I think both teams have a pretty good understanding of how each team plays and so I don't think there are too many surprises that can be brought out by either team.
"What I do think is that we understand the environment that we're going into. We understand that we're away from home. We understand that there are a lot of things that aren't in our favor, and we have to be smart about that. At the same time, we also know it's not easy to win a final at home because of the expectation that comes with being in front of your home crowd and everything else. That's a big part of this."
Ahead of Wednesday's finale, Sporting KC enters in lackluster form, although a recent road draw against fellow Western Conference contenders Seattle Sounders has lifted the team's spirits.
That game, a 1-1 draw at Sporting Park, saw Vermes field a reserve-laden lineup, as the club looked to prepare for tonight's final. That decision wasn't one based on fatigue or potential rest, according to captain Matt Besler. Rather, it was based on scheduling, as the team looked to get into a normal practice rhythm ahead of the midweek encounter.
Among the challenges Sporting KC will face tonight is trying to contain a very familiar face in C.J. Sapong, a member of its U.S. Open Cup and MLS Cup-winning teams in 2012 and 2013.
Sapong, who played 110 games and scored 20 goals from 2011-14 as a member of Sporting KC, now leads the charge for the Union's attacking unit. Leading the team with nine goals, Sapong's goal-scoring ability has traveled with him to PPL Park, a fact Sporting KC is well aware of.
"We have a lot of respect for C.J. and we really enjoyed having him on our team these last couple of seasons," added Besler, "and, like Peter said, we were happy to see how successful his season has gone. We understand that he's playing with a lot of confidence, and he's definitely a handful up top, so we're going to have to really be locked in to get a result against him.
"There definitely will be some focus around him, but at the same time there's going to be a lot of focus around their other players too. It's not just C.J. It's (Sebastian) Le Toux and (Tranquillo) Barnetta on the other side. They have a lot of weapons that can hurt you, so we have to be ready for everything."
Winning a third major trophy in three years would signal an impressive milestone for Vermes and Sporting KC, and would put the club among the most successful in MLS in recent years, but talk of things like legacy and trying to build a dynasty are far from the minds of Sporting KC's players and staff.
"Obviously, it would be an accomplishment, but from our perspective, we're not thinking of it that way," Vermes said. "We're thinking of it as the competition that's in front of us and the opportunity that's in front of us. Obviously, being able to win another U.S. Open Cup would be fantastic for the team and the club and the fans, so that's really our focus."