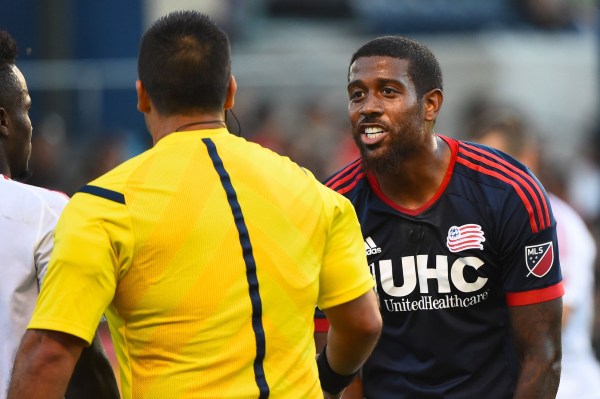 Photo by Winslow Townson/USA Today Sports
By RYAN TOLMICH
For the better part of two years, Jeremy Hall found himself as a forgotten man of sorts at two separate clubs. Now, the 27-year-old fullback is making up for lost time by helping his team's recent surge up the table.
Having featured in just six MLS games since 2013 entering the month of July, Hall has established himself as a mainstay on the backline of the New England Revolution in the past two months. Prior to the fullback's introduction, the Revs were playing as poorly as any team in MLS, dropping six of seven games.
However, since inserting Hall into the lineup, the Revs have now gone 6-0-1 while surrendering just four goals in seven games.
For Hall, years spent mostly on the bench have made him appreciate his latest opportunity, and brought some relief after some frustrating seasons.
"It was good to get back playing," Hall told SBI. "It tested my patience a little bit, not playing in the beginning, but I just worked hard. I don't know if it's me being in the lineup. It's just one of those things where we were on a bad string of results and it was going to turn eventually.
"It's been not just me, but really just 11 guys playing for each other."
A mainstay in the Toronto FC lineups in 2013, Hall was all but cast aside in 2014, making just three appearances as injuries and frustration mounted. Traded to the New England Revolution last December, Hall was left excited after phone calls with Jay Heaps as the fullback joined up with an MLS Cup contender.
In the Revs, Hall joined a young, dynamic team that looked to keep possession, a style that suited the 27-year-old veteran's game. Joining with last year's runners-up, Hall knew he was becoming a part of something special.
However, Hall was also forced to deal with the difficulties that come with joining a contender, specifically with the depth at his position. This season Hall has battled with the likes of Revs veterans Kevin Alston and Darrius Barnes, as well as youngster London Woodberry, as the competition for playing time proved fierce.
With injuries piling up, Hall was thrust into the starting lineup for a July 18 clash with NYCFC, and the fullback hasn't looked back since. Now able to look back on the two-year period of wanting and waiting, Hall is glad he has become somewhat of an unsung hero for a Revs team that now looks to once again be among the best in the East.
"I thought I was going to come in and compete right away," Hall said. "It didn't go as fast as I wanted, but I just tried to train hard every day, talk to Jay and look at the things he wanted me to improve on in training. It's unfortunate that we had a few injuries, but I just waited for my opportunity which ever way it was going to come and when it came, I was ready for it.
"This is my seventh year in the league. I know what it takes to be on the field. I just kind of had to wait my time. A lot of these guys have been here for awhile and are established and know how to play with each other. I just had to come in and work hard and wait for my chance. Now, I just want to run with it and help the team as best as I can."
Hall has established himself as a steady defender, and has fit right into a back-line that has been one of the stingiest in the league over the past month.
"He's been a great addition for our team," Farrell told SBI of Hall."It was tough, I think, for him. He had to kind of get his shot, and when he got his shot, he took it and he ran with it. That's a testament to how hard he worked in the preseason and throughout the year when he wasn't getting starts and sometimes not even traveling with the team.
"Now, he's starting for us and has been a huge asset for us and kind of led the charge on this nice run of seven games that we got."
The Revs' push up the Eastern Conference ladder continues Wednesday with a home date against the New York Red Bulls. It is a clash of two of the hottest teams in the league, and though the Red Bulls boast a dangerous attack led by reigning MLS Golden Boot winner Bradley Wright-Phillips, Hall and the Revs believe they can keep their own seven-match unbeaten streak going.
"I think everybody's super confident right now," Hall said. "Even when we were going through our little rough patch, everybody was just confident that we could turn it around and get things going.
"We just have a good team and we knew we'd need everybody, but now we go into every game, whether its at home or on the road, looking to get three points," Hall said. "I was excited to join here and, hopefully, I can help them get to the MLS Cup again."