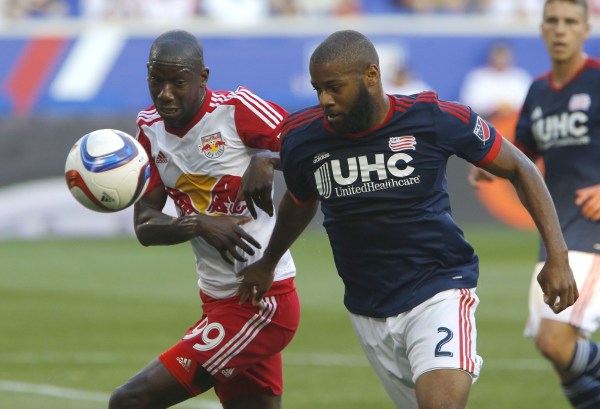 Photo by Noah K. Murray/USA Today Sports
By RYAN TOLMICH
As two MLS originals located in close proximity, the New England Revolution and New York Red Bulls have developed quite the rivalry in recent seasons, one that has been elevated even further by the events of the past year.
Last year, it was the Red Bulls' first ever win at Gillette Stadium that claimed first blood, while the Revs got the last laugh by knocking off their local rivals in the Eastern Conference finals. Most recently, the rivalry shifted in favor of the Red Bulls in a dominant 4-1 victory that has since spurred a seven-game unbeaten run for the Revolution.
As things stand, the Red Bulls it on 45 points through 26 games, maintaining at least two games in hand on all of those around them. Meanwhile, the Revs' recent run has put the team within striking distance with 43 points through 28, which has added some spice to an already-intense rivalry.
"They're fun to play in," Andrew Farrell said of Revs-Red Bulls matches. "It's a team we played last year and got the better of them, but this year, our last loss was against them. It's going to be a good one. It's always physical, always entertaining games, I think. I don't think that any games we play against the Red Bulls have been not that fun to watch.
"It should be a good one. We both have good styles to play on both teams and it's going to be really exciting. It's going to be a good atmosphere. It always is. A big game for both teams with a lot on the line."
Red Bulls head coach Jesse Marsch is new to the rivalry, haven taken charge of the club ahead of the 2015 season. Still, the former Montreal Impact coach knows full well what to expect when his side steps foot in Gillette Stadium.
When looking at the Revs, Marsch sees a team that is very much a threat, no matter what last game's scoreline depicted. Especially on their home field, the Revs are a team that has no problem going toe-to-toe against any in the league.
In recent seasons, the Red Bulls have struggled to go toe-to-toe with their local rivals, opting to rest many key starters for away games on the turf of Gillette. With the likes of Thierry Henry and Jamison Olave often out of the lineup, the Red Bulls have never quite been at full strength against the Revs in recent seasons.
That isn't something the current version of the Red Bulls has to worry about.
"I don't want to have a team that has certain guys that don't want to play on certain days," Marsch said, "and that's not a slight to anyone in the past, but we're going to have a team that is going to step on the field every day and have guys committed to that. That part has been good. There hasn't been one discussion on this team about who's going to play in the heat, who's going to play in elevation, on travel days, on turf. Everyone is ready to go.
"I think that has a lot to do with the teams that New England has had over the years and how good they are at home and the types of games that you have to play there," Marsch said. "Sometimes, once it gets to fall, you get weather, you get wind, you get the turf. It can be cold. They have a very gritty team, so we know that when we go there, this game is going to be a lot of fun, but it's going to be, for sure, a brawl, and we're ready for it and we're excited for it."
The last contest between the two was anything but a brawl, with the Red Bulls swarming the Revs into submission. Now, the Revs are hoping that their new-found confidence makes a major difference.
Last time, Revs head coach Jay Heaps says his side was not good enough, and that changes have been made in the gameplan to cope with what the Red Bulls did well last time out.
One of the changes that will be most important will be the limiting of Bradley Wright-Phillips, who netted a brace the last time the two teams met. In Wright-Phillips, the Revs face a major challenge, especially when it comes to not over-committing to marking him, and potentially leaving the Red Bulls other weapons free to roam.
"He's good because he's not exactly a target forward, but he can post up the centerbacks very well," Farrell said of Wright-Phillips. "He's good in the air. He's tricky. He's got speed. He's kind of all around. He's a very good forward. It's tough to neutralize him and make him play one way.
"We'll have to see how they play, how the game plays out. It's always fun playing against players of that caliber because it tests you. It's a lot of fun playing against guys at that level and should be a test for our backline."
That test will be only magnified due to the absence of Jermaine Jones, who is set to miss out due to yellow card accumulation.
Red Bulls captain Dax McCarty, for one, is disappointed by Jones' absence, stating his desire to always go against the best players that the other team has to offer. Meanwhile, McCarty hopes Jones' absence doesn't offer a built in excuse, as the Red Bulls midfielder wants Wednesday's clash to depict the best both sides have to offer.
For McCarty, New England's best is plenty good enough. Having seen the their recent run, McCarty knows full well that the Revs, like the Red Bulls, have the potential to be the class of the conference.
"They play with a lot of swagger, a lot of bravado," McCarty said of the Revs. "They really feel like they're the team to beat right now, and maybe rightfully so because they're five or six games unbeaten right now and especially at home they've been really dangerous. It's always a battle with them.
"I think we've had a pretty good rivalry with them the past couple of times we've played. The past couple of seasons, its really started to blossom. We're two of the better teams in the conference and we have  a lot of respect for each other. It's going to be a dogfight."