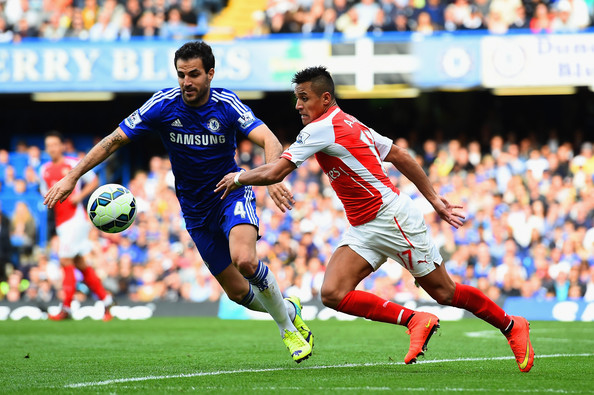 By SBI SOCCER
Coming off polar opposite results in their respective UEFA Champions League openers earlier in the week, Chelsea and Arsenal will square off in the Premier League on Saturday to take center stage among European soccer this weekend.
After picking up just four points through five league matches, Chelsea found its stride on Wednesday, picking up a comprehensive 4-0 win over Maccabi Tel Aviv in their UCL Group G clash. Arsenal, on the other hand, did not have much to celebrate about as they fell 2-1 on the road to Dinamo Zagreb in Croatia.
Elsewhere, Borussia Dortmund — which has collected a maximum of 12 points with a 15-3 goal differential so far in the season — will look to continue the best start in Bundesliga's 53-year history when it hosts Bayer Leverkusen on Sunday.
Also facing off will be the top two sides in Serie A at the moment. Inter, after going 3-for-3 to start its season, is leading the top flight in Italian soccer for the first time in five years, and it will look continue its stay there when it visits second-place Chievo Verona.
Here is a rundown of all the weekend's soccer action on TV:
THIS WEEKEND'S SOCCER ON TV
FRIDAY
MLS
7 p.m. — UniMás/MLS Live — Sporting Kansas City vs. FC Dallas
LA LIGA
2:30 p.m. — beIN Sports en Español — Getafe vs. Málaga
GERMAN BUNDESLIGA

2:30 p.m. — Fox Sports 1/Fox Soccer 2Go — Mainz 05 vs. Hoffenheim
LIGUE 1

2:30 p.m. — beIN Sports Connect — Stade de Rennes vs. Lille
ENGLISH LEAGUE CHAMPIONSHIP

2:45 p.m. — beIN Sports — Ipswich Town vs. Birmingham City
NCAA MEN'S SOCCER

7 p.m. — ESPN3 — Duke vs. Clemson
7 p.m. — ESPN3 — Virginia Tech vs. Louisville
LIGA MX
8:30 p.m. — Univision Deportes — Veracruz vs. Puebla
10:30 p.m. — Azteca America — Santos Laguna vs. Atlas
SATURDAY
ENGLISH PREMIER LEAGUE
7:45 a.m. — NBCSN/NBC Sports Live Extra — Chelsea vs. Arsenal
10 a.m. — NBC Sports Live Extra — Swansea City vs. Everton
10 a.m. — NBC Sports Live Extra — Stoke City vs. Leicester City
10 a.m. — NBC Sports Live Extra — Bournemouth vs. Sunderland
10 a.m. — NBC Sports Live Extra — Newcastle United vs. Watford
10 a.m. — NBC Sports Live Extra — Aston Villa vs. West Brom
12:30 p.m. — NBCSN/NBC Sports Live Extra — Manchester City vs. West Ham United
ENGLISH LEAGUE CHAMPIONSHIP

7:30 a.m. — beIN Sports/beIN Sports en Español — Nottingham Forest vs. Middlesbrough
LA LIGA
10 a.m. — beIN Sports/beIN Sports en Español — Real Madrid vs. Granada
12:15 p.m. — beIN Sports en Español — Valencia vs. Real Betis
2:30 p.m. — beIN Sports en Español — Eibar vs. Atlético Madrid
4 p.m. — beIN Sports en Español — Real Sociedad vs. Espanyol
SERIE A
Noon — beIN Sports Connect — Udinese vs. Empoli
2:45 p.m. — beIN Sports — Milan vs. Palermon
GERMAN BUNDESLIGA

9:30 a.m. — Fox Sports 1/Fox Soccer 2Go — Darmstadt 98 vs. Bayern Munich
9:30 a.m. — Fox Sports 2/Fox Soccer 2Go — VfL Wolfsburg vs. Hertha Berlin
9:30 a.m. — Fox Soccer 2Go — Hamburg SV vs. Eintracht Frankfurt
9:30 a.m. — Fox Soccer 2Go — Werder Bremen vs. Ingolstadt
9:30 a.m. — Fox Soccer 2Go — Cologne vs. Borussia Mönchengladbach
LIGUE 1
11:30 a.m. — beIN Sports — Stade de Reims vs. Paris Saint-Germain
2 p.m. — beIN Sports Connect — Angers vs. Troyes
2 p.m. — beIN Sports Connect — Bastia vs. Nice
2 p.m. — beIN Sports Connect — Caen vs. Montpellier
MLS
2 p.m. — MLS Live — Toronto FC vs. Colorado Rapids
7 p.m. — MLS Live — Vancouver Whitecaps vs. Seattle Sounders
7 p.m. — MLS Live/YES Network/Fox Sports Go — New York City FC vs. San Jose Earthquakes
7 p.m. — MLS Live/CSN Washington — D.C. United vs. Columbus Crew
8 p.m. — MLS Live — Montreal Impact vs. New England Revolution
8 p.m. — MLS Live/Fox Sports Florida — Chicago Fire vs. Orlando City
9:30 p.m. — MLS Live — Real Salt Lake vs. LA Galaxy
LIGA MX
6 p.m. — Univision/Univision Deportes — Cruz Azul vs. Pumas UNAM
8 p.m. — Univision Deportes — Tigres UANL vs. Monterrey
9:06 p.m. — Telemundo — León vs. Tijuana
9:30 p.m. — Azteca America — Morelia vs. América
10 p.m. — ESPN3 — Dorados vs. Pachuca
NASL
7:30 p.m. — ESPN3/WatchESPN — Atlanta Silverbacks vs. Carolina RailHawks
7:30 p.m. — ESPN3/WatchESPN — Fort Lauderdale Strikers vs. Ottawa Fury
7:30 p.m. — ESPN3/WatchESPN — Indy Eleven vs. Edmonton
7:30 p.m. — ESPN3/WatchESPN — Tampa Bay Rowdies vs. San Antonio Scorpions
8 p.m. — ESPN3/WatchESPN — Minnesota United vs. New York Cosmos
EREDIVISIE
1:45 p.m. — Univision Deportes — Heracles vs. PSV Eindhoven
NCAA MEN
7 p.m. — ESPN3 — Syracuse vs. Wake Forest
SUNDAY
ENGLISH PREMIER LEAGUE
8:30 a.m. — NBC Sports Live Extra — Tottenham Hotspur vs. Crystal Palace
11 a.m. — NBC Sports Live Extra — Liverpool vs. Norwich City
11 a.m. — NBCSN/NBC Sports Live Extra/Telemundo — Southampton vs. Manchester United
LA LIGA
6 a.m. — beIN Sports en Español — Sevilla vs. Celta de Vigo
10 a.m. — beIN Sports Connect — Deportivo La Coruña vs. Sporting Gijón
12:15 p.m. — beIN Sports en Español — Villarreal vs. Athletic Bilbao
2:30 p.m. — beIN Sports/beIN Sports en Español — Barcelona vs. Levante
2:30 p.m. — beIN Sports Connect — Las Palmas vs. Rayo Vallecano
SERIE A

6:30 a.m. — beIN Sports — Chievo Verona vs. Inter
9 a.m. — beIN Sports Connect — Atalanta vs. Hellas Verona
9 a.m. — beIN Sports en Español — Genoa vs. Juventus
9 a.m. — beIN Sports — Roma vs. Sassuolo
2:45 p.m. — beIN Sports Connect — Napoli vs. Lazio
GERMAN BUNDESLIGA

9:30 a.m. — Fox Sports 1/Fox Soccer 2Go — Stuttgart vs. Schalke 04
11:30 a.m. — Fox Sports 2/Fox Soccer 2Go — Borussia Dortmund vs. Bayer Leverkusen
11:30 a.m. — Fox Sports 2Go — Augsburg vs. Hannover 96
LIGUE 1
8 a.m. — beIN Sports Connect — Bordeaux vs. Toulouse
11 a.m. — beIN Sports — AS Monaco vs. Lorient
11 a.m. — beIN Sports Connect — Saint-Étienne vs. Nantes
3 p.m. — beIN Sports Connect — Marseille vs. Lyon
MLS
5 p.m. — ESPN/ESPN2/ESPN Deportes — Portland Timbers vs. New York Red Bulls
7 p.m. — Fox Sports 1/Fox Soccer 2Go — Philadelphia Union vs. Houston Dynamo
LIGA MX
1 p.m. — Univision/Univision Deportes — Toluca vs. Chiapas
6 p.m. — Univision Deportes — Guadalajara vs. Querétaro
NCAA MEN'S SOCCER

3 p.m. — Big Ten Network — Indiana vs. Rutgers
3 p.m. — Pac-12 Network — Stanford vs. Davidson
NCAA WOMEN'S SOCCER

3 p.m. — SEC Network + — Auburn vs. Tennessee
7 p.m. — SEC Network + — North Texas vs. Texas A&M
INTERNATIONAL
1:30 p.m. — ESPN2/WatchESPN — U.S. Women's National Team vs. Haiti