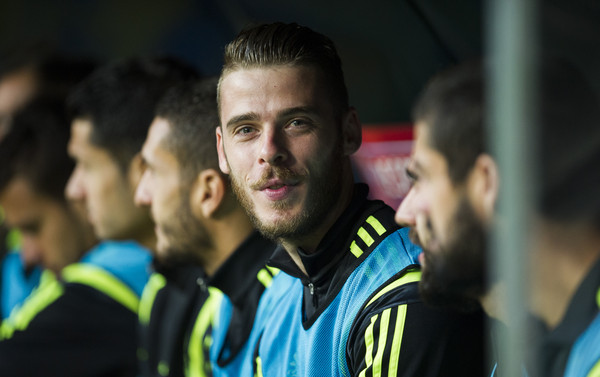 By SBI SOCCER
One minute, David De Gea was out the door heading to Spain, and the next minute, he was staying in England waiting until the January window for Real Madrid to come knocking once again.
Now, the Spanish goalkeeper looks likely to stay with Manchester United for much longer because Madrid club president Florentino Perez confirmed the team would not pursue De Gea in January.
"We will certainly not sign De Gea in January," Perez told Cadena COPE over the air. "Madrid did its job as best it could. We did not get there on time because Manchester does not have the necessary experience to tackle these things on the last day, as happened last year with (Fabio) Coentrao."
De Gea's contract expires in June 2016, so the club may now wait until then to sign the goalkeeper on a free transfer — that is if Manchester United does not sign the 24-year-old netminder to an extension first.
"He has to do what is best for his career," Perez added. "It's very difficult that he does nothing for a year. When people say, 'wait for a year and then he comes free,' that has never happened with any big player."
De Gea has not appeared for the English Premier League club in the 2015-16 season, but he returned to training after starting in the Spanish national team's 1-0 win vs. Macedonia.
Here are more news and notes this Thursday morning:
MANCHESTER UNITED PLAYERS CONFRONT LOUIS VAN GAAL ABOUT TRAINING TACTICS
Manchester United is not off to the best of starts in the 2015-16 EPL season, and some players confronted head coach Louis Van Gaal about the situation.
According to The Times, senior players approached Van Gaal a few weeks ago to express their worries about the manager's "rigid training" requirements.
Players are reportedly upset by a "lack of creativity and flexibility" in training, and they believe that Van Gaal is hampering the team's performances so far this season. Manchester United have seven points and currently sit fifth on the table, but the Red Devils have not won an EPL affair since Aug. 14.
Meanwhile, players also said that the handling of David De Gea has also caused a stir in the lockeroom, according to The Sun.
Manchester United hosts Liverpool Saturday at Old Trafford.
LIONEL MESSI CALLS WAYNE ROONEY "A ONCE IN A GENERATION PLAYER"
Wayne Rooney cemented his name into the English national team's record book Tuesday, and one of the world's best players recognized him as a "special" talent of this generation.
Lionel Messi said Rooney, who scored his 50th international goal against Switzerland, is a "winner," and while personal accolades are great, he and Rooney share a humbleness that helps them focus on leading their team to victory.
"Wayne Rooney is for me a once in a generation player," Messi told the Mirror Thursday. "One of those special players, who is not comparable to any other. There are many special players, but Rooney has exceptional quality and technical ability as well as being one of the strongest players I have faced with an exceptional work rate — there is nobody like him."
QUICK KICKS
Gerard Pique said he doesn't play on the Spanish national team for money because he earns "50 times more for Barca." (REPORT)
Arsene Wenger told reporters that Jack Wilshere is injured and will not be available for Saturday, while Welbeck "will be out certainly until Christmas." (REPORT)
Cristiano Ronaldo released a new fragrance called "Cristiano Ronaldo Legacy." (REPORT)
Andre Villas-Boas will leave Zenit at the end of the season. (REPORT)
Manchester united head coach Louis Van Gaal said the price for Anthony Martial from AS Monaco was "ridiculous." (REPORT)