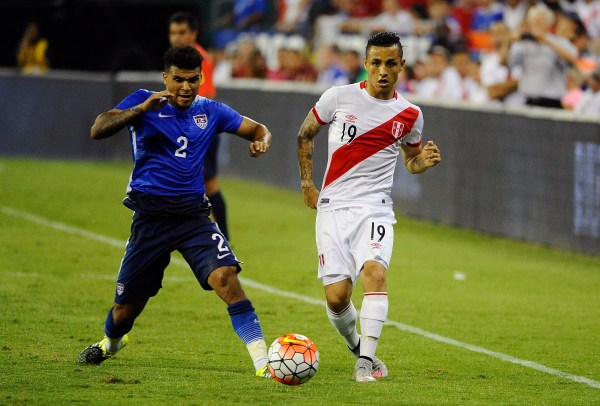 photo by Brad Mills/USA Today Sports
By FRANCO PANIZO
WASHINGTON — A lackluster opening 45 minutes, a much-improved second half, and a come-from-behind win that has injected a bit more confidence in U.S. Men's National Team fans.
The U.S. knocked off Peru, 2-1, on Friday night at RFK Stadium thanks to a brace after halftime from Jozy Altidore and all-around solid defensive performance. The win came in the U.S. team's first match since their abysmal CONCACAF Gold Cup showing, and without star veterans Michael Bradley and Clint Dempsey, who remained with their clubs.
While much of the postgame talk from the U.S. was positive, there were still some troubling signs. Jurgen Klinsmann's side had a lousy first half that looked like an extension of the play that was seen at the Gold Cup, and Altidore's two goals flattered what was a a largely mixed performance from him.
Ultimately, Peru provided exactly the type of challenge that the Americans wanted ahead of next month's CONCACAF Cup clash with Mexico. The U.S. prevailed on Friday thanks to improvements in several areas, but there is also still plenty to work on before that Oct. 10 meeting.
Here is closer look back at the U.S. victory vs. Peru:
ALTIDORE DID NOT HAVE A GOOD GAME
Jozy Altidore showed marked improvement from how he played at the Gold Cup, and it was not just because of the goals he scored.
Still, he did not have a good game.
The U.S. captain in this one, Altidore was nearly nonexistent in the first half. The Americans as a whole struggled to keep possession, but Altidore played a part in that due to his inability to relieve pressure, keep the ball when the U.S. did have it, or connect on passes. It wasn't until the 42nd minute that Altidore finally tested Peru goalkeeper Pedro Gallese, but that came from a near-impossible angle after a rough first touch saw the ball get away from Altidore.
Altidore, like his American teammates, kicked it up a notch after the break. He was more active and aggressive, using his enviable strength and size to hold off and power through Peruvian defenders. The goals he scored, however, came via fortuitous calls or bounces.
The forward's first came via a questionable penalty kick that he scored on the rebound after having his initial shot saved. The second happened when a wayward Gyasi Zardes shot took a kind deflection and fell to Altidore at the door step.
All this is not to say Altidore's two-goal outing was fool's gold. He had a nice, one-touch pass that was key to the sequence on his second tally, and could've had a neat assist in the first half had John Brooks not sent a shot into orbit.
Those moments were too few and far in between, however, and more is going to be demanded of him if he is to start vs. Mexico in a month's time.
RESILIENCE, DEFENSIVE GRIT REASONS FOR OPTIMISM
Save for a late surge in the final minutes, the Americans had a pretty lifeless first half. There was very little possession, a lack of venom in the attack, and some frustrating unforced turnovers.
Where the U.S. really did shine from start to finish was in defense. The Americans' back line was comprised of four natural centerbacks, but held its own against a talented stable of Peruvian attackers, especially in the first half when waves of pressure came the U.S.'s way. Emergency left back Tim Ream was worthy of exceptional praise, as he stood his ground on a number of 1-v-1 battles and limited the impact that the in-form Andre Carrillo had on the game.
The defensive outing was a huge upgrade over those at the Gold Cup, but another reason for optimism was how the U.S. dug deep to come from behind to turn this one around.
There was a feeling among some in the U.S. camp that the squad had lost a bit of that never-say-die attitude, that resilience, that fight that have been the staple of so many wins in recent years, and getting all that back to optimum levels was crucial.
The Americans showed that they still have that card up their sleeve. They regrouped at halftime and came out much sharper, tougher, and aggressive. It resulted in Peru looking overwhelmed, and paved the way for Altidore's game-changing brace.
KLINSMANN CONTINUES TO DEMONSTRATE NEED FOR SPEED
Like many unabashed FIFA 15 gamers, Jurgen Klinsmann loves speed. He has stated on multiple occasions how important he thinks it is to the international game, and let it be known again with his actions on Friday.
Klinsmann deployed Zardes and DeAndre Yedlin at the left and right midfielder spots, respectively, against Peru, and it paid off as the promising youngsters used their speed to keep the Peruvian defenders and midfielders on their toes.
Zardes was especially effective, testing right fullback Luis Advincula, who is no slowpoke, with a number of darting dribbling runs on the flank. The 24-year-old Zardes was without a doubt the best U.S. attacking player in the first half, as he aggressively exploited space and looked to fire shots or whip in crosses the few times the Americans had possession.
Both Zardes and Yedlin also played key parts in Altidore's game-winning goal. Hitting his high gear, Yedlin raced onto a ball over the top on the play. He then took advantage of the step he had on Peru left back Juan Vargas and astutely faked a right-footed cross, which duped the veteran defender into committing a desperation slide that may have sent him all the way to the White House.
Yedlin cut a pass back to Altidore that was poked away at the last second, but Zardes was there to collect the ball and hit a poor shot that deflected into the path of Altidore.
PERU PROVIDED PERFECT TEST FOR MEXICO MATCH
Brazil will prove a tougher challenge, but Peru was the perfect one.
Like college midterms before a final, Peru provided a practice test that should give the Americans a good idea as to what to expect next month vs. Mexico. Like El Tri, Peru boasted technical players who liked to combine with quick, short passes, and had plenty of flair in their repertoire.
Attacking midfielder Jefferson Farfan also helped to prepare for Mexico playmaker Giovani Dos Santos. Though the two players are not identical, there are resemblances in the way they can pull the strings for their respective countries. Farfan was especially dangerous on the counter attack, an area where Dos Santos has proven to be lethal.
The similarities don't stop there. The crowd of 28,896 at RFK Stadium was pro-Peru, and the South American's supporters shouted a string of 'Oles' midway through the first half that will surely be heard again next month when Mexico fans pack into the Rose Bowl in Pasadena, California.
The atmosphere vs. Mexico will be more intense and there is more at stake in next month's game, but Peru gave a good glimpse as to what to expect on the field and in the stands.
Great move by U.S. Soccer to schedule this one.