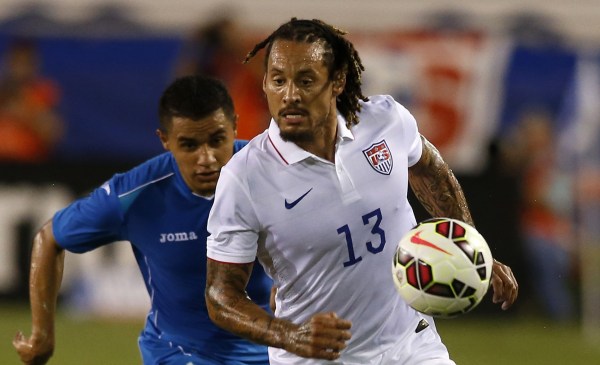 photo by Robert Mayer/USA Today Sports
By FRANCO PANIZO
WASHINGTON — There is not a whole lot of meaning to this game, but there is a whole lot of significance.
The U.S. Men's National Team will play for the first time since its dismal CONCACAF Gold Cup display, as it hosts Peru on Friday in a friendly at RFK Stadium. The game is meant to prepare the Americans for the match of real importance in October against Mexico, and will give U.S. head coach Jurgen Klinsmann a chance to figure out exactly what changes he can make to his lineup.
Improving is also on the agenda, especially after failing to even finish in the top three at the Gold Cup. What is making accomplishing that even more difficult is the fact that veteran leaders Michael Bradley and Clint Dempsey are out for this encounter, and that the U.S. is playing a talented Peru side that is full of confidence after surprisingly finishing in third place at the Copa America in June.
A good and more well-rounded performance will be needed if the U.S. is to come out on top and move closer to being able to beat Mexico. From front to back, top to bottom.
"There are definitely things that need to be improved," said Klinsmann. "We had a very, very good performance against Jamaica (in the semifinals of the Gold Cup). We went out because of what I mentioned before, but also we had enough chances to put the game away as well. We needed to put the balls in the net with the occasions we had in the game and not only to fight now some referee calls that were very doubtful."
"There are things that we need to do better."
The one area for the U.S. that arguably needs the most improvement and holds the most intrigue going into this match is the back line. John Brooks and Ventura Alvarado struggled more often than not at the Gold Cup, and Klinsmann has called them and five additional players who are capable of playing centerback in for this camp.
Barring a surprise of epic proportions, Klinsmann will likely stick with a centerback tandem and a four-man back line. Still, he might have to plug in some of those central defenders out wide given the fact the incumbents Fabian Johnson and DaMarcus Beasley are sidelined with injuries.
Whoever starts will have the benefit of not having to go up against top Peru striker Paolo Guerrero, who is out with an injury. Still, the Americans will need to be sharp defensively in order to keep at bay a technical Peruvian team that, like Mexico, likes to keep the ball on the ground and combine with quick passes.
"Throughout the game tomorrow they're going to have stretches where they do keep the ball," said goalkeeper Brad Guzan, who has been named the starter ahead of the returning Tim Howard. "It's going to be on us to make sure that we're compact, we're solid, and make it difficult for them to penetrate and to break us down. That's going to be on us."
The U.S. is getting a boost via the reintroduction of hard-nosed midfielder Jermaine Jones, who has been out of action for the U.S. for much of the year because of injuries. Jones is still working his way back to full fitness after his most recent knock, but he seems likely to be in the starting lineup in place of the absent Bradley.
If that's the case, the 33-year-old Jones will be deployed further up the field than he has been in many of his previous games. He would be tasked with helping the attack break down the Peruvian centerback pairing of Carlos Zambrano and Carlos Ascues while also trying to limit the impact of talented attacker Jefferson Farfan.
Jones will not be able to play the full match, however.
"He's not 100 percent yet. We all know that," said U.S. head coach Jurgen Klinsamnn. "He hasn't picked up a rhythm yet, and he's not in physical capabilities that he usually brings into our group. But still his experience, his drive, his energy, and his way of guiding people around him is very important. We'll get Jermaine on the field, but obviously not for 90 minutes."
The American attack is another place where Klinsmann has said the competition is "wide open" ahead of the Mexico match. Jozy Altidore is in camp, but his recent struggles seem to have put his regular starting role in jeopardy.
The absence of Dempsey suggests that Altidore will start again on Friday, but a good overall shift that includes a goal or two might be needed to stay ahead of the rest of a forward pack that includes Aron Johannsson and Bobby Wood.
In any case, the U.S. as a whole needs to bounce back in a big way against Peru. The results of these friendlies might not matter much in terms of the bigger picture, but the American players have plenty at stake.
"This is where every player has to pull up his socks and look in the mirror and really show themselves what they're capable of," said midfielder Alejandro Bedoya, "Prove to the coach that we deserve a starting spot and be part of the team moving forward."