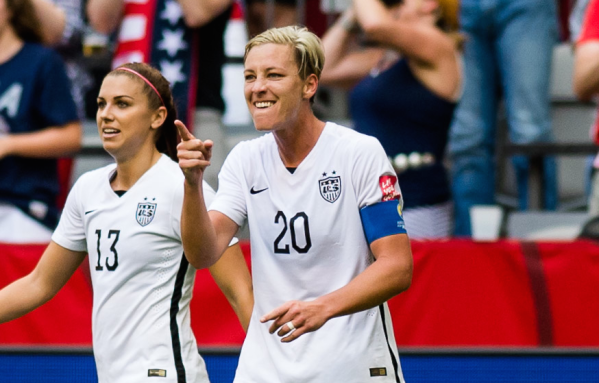 By FRANCO PANIZO
The just-released FIFA 16 demo will not just give gamers a hands-on preview of what to expect from this year's game. It will also provide them with a chance to debate player ratings, specifically those of the U.S. Women's National Team.
The demo for EA Sports' annual soccer video game was released for consoles on Tuesday, and with it came the revelation of the initial player ratings for the World Cup-winning Americans. These differ slightly from some of the ones EA Sports recently unveiled, but still provide an idea for what to expect.
The best player in the demo on the U.S. Women's team, which is rated five stars, is veteran forward Abby Wambach with an 88 overall rating. Following her are star goalkeeper Hope Solo and wide midfielder Megan Rapinoe with 87s. Carli Lloyd comes next with an 86, and after her are Alex Morgan and Becky Sauerbrunn with 84s.
Other notable ratings on the squad in the demo of game – which is the first to include women's teams and has face scans for all 23 players – are Sydney Leroux's 82 and Christen Press at 72.
No word yet on what are the player ratings for U.S. Men's National Team, but Clint Dempsey has been listed at 81 as seen on the Seattle Sounders' roster in the demo.
Here is a closer look at the FIFA 16 demo player ratings of the U.S. Women's National Team:
(FIFA 16's USWNT roster – 5 stars)
Hope Solo – 87
Ali Krieger – 80
Becky Sauerbrunn – 84
Julie Johnston – 81
Meghan Klingenberg – 80
Tobin Heath – 83
Lauren Holiday – 81
Carli Lloyd – 86
Megan Rapinoe – 87
Alex Morgan – 84
Abby Wambach – 88
Sydney Leroux – 82
Christen Press – 72
Heather O'Reilly – 81
Morgan Brian – 74
Christie Rampone – 83
Kelley O'Hara – 81
Ashlyn Harris – 80
Lori Chalupny – 69
Amy Rodriguez – 74
Shannon Boxx – 70
Whitney Engen – 79
Alyssa Naeher – 75
—–
What do you think about these FIFA 16 demo player ratings for the USWNT? Who was given a far too flattering rating? Who is too low? Looking forward to playing with this team?
Share your thoughts below.