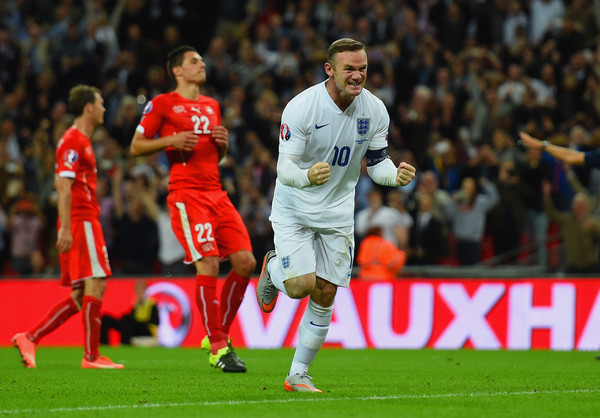 By SBI SOCCER
As of Wednesday, no Englishman has been as clinical as many times as Wayne Rooney.
That's because the 29-year-old surpassed Sir Richard 'Bobby' Charlton's goalscoring benchmark at the international level with his 50th goal against Switzerland Tuesday.
The English captain scored from the penalty spot in the team's 2-0 win at Wembley Stadium, keeping the English national team undefeated with eight wins in Group E of European Championship qualification. The goal was also his seventh of the competition, one off the pace of Germany's Thomas Muller.
After the match, players, personnel and coaches applauded his milestone, and Rooney gave an impromptu speech to the people who shared the moment with him.
"I'd like to thank you every one of you, coaches, players, staff who I've worked with for such a long time," Rooney said in English locker room after the win. "This is such a huge moment for myself and my family and my career. Hopefully for the team, for myself, there's a lot more to come — we can be successful.
"Hopefully there's a lot of young lads coming through, Harry (Kane), Ross (Barkley), Raheem (Sterling), who can come close and even pass me in the future. I'm grateful, it means the world to me, and thank you very much."
Here are some more news and notes this morning:
MEXICO LETS LEAD SLIP IN DRAW WITH ARGENTINA
There is only so much one team can do to prevent Lionel Messi from scoring, and Mexico couldn't do that Tuesday night.
Messi scored a 89th minute volley to level the score at 2-2 after Sergio Aguero scored a tap-in four minutes earlier.
Mexico had taken the lead in the first half, thanks to a Javier 'Chicharito' Hernandez penalty kick conversion in the 19th minute. Hector Herrera doubled the advantage for El Tri in the 70th minute, and Mexico were set to cruise to a victory in front of 82,559 at AT&T Stadium in Arlington, Texas.
However, Mexico goalkeeper Moises Munoz, who had made some key saves on the night, made one fatal error. He misplayed a ball that had soared into the penalty area, and Ezequiel Lavezzi made him pay, slotting a pass in front of the empty net where it found Aguero.
Despite the slip-up, interim El Tri manager Ricardo Ferretti must now focus his side on the bigger task at hand, a Confederation Cup playoff meeting with the U.S. Men's National Team on Oct. 10.
DEL BOSQUE SAYS SPAIN WON BECAUSE OF LUCK

Spain enjoyed two wins during the September international window, but head coach Vicente Del Bosque is not happy with the team's performances.
After a 1-0 win against Slovakia, Spain followed in suite with another 1-0 win against Macedonia Tuesday. Del Bosque's men are all but qualified for Euro 2016, but he wants to see better performances from everyone on the team.
"We have not played well, we won by chance," Del Bosque told reporters after the win vs. Macedonia. "It's hard to explain but there was a great motivation for the first game and only a normal amount for the second. We have only scored the goal by chance. Once we got the goal we have stopped, we played slowly to feet and without any depth.
"We can not defend anyone, we played a little football but when it came to coordinating the three main issues of football — defending, creating and finishing — we have not done so."
QUICK KICKS
Eden Hazard said it's hard to be a champion with Chelsea because "everyone wants to kill you." (REPORT)
David De Gea said he is "longing" to play again, and he hopes to play with Manchester United as soon as possible. (REPORT)
Cristian Zapata said Mario Balotelli is "changed" and he sees in him "a boy that wants to work." (REPORT)
Belarus downed Luxembourg, 2-0, to climb to fourth in Group C.
Slovakia and Ukraine played to a scoreless draw, remaining second and third, respectively, in Group C.
Lithuania topped San Marino, 2-1, but remain fifth in Group E.
Slovenia found an important 1-0 win vs. Estonia, to move into third in Group E.
Russia easily took down Liechtenstein, 7-0, and jumped into second in Group G.
Austria pounded now third-place Sweden, 4-1, to stay in first in Group G.
Peru and Colombia played to a 1-1 draw, with Jefferson Farfan and Carlos Bacca scoring for either side.
An early Bryan Ruiz tally helped Costa Rica defeat Uruguay, 1-0.