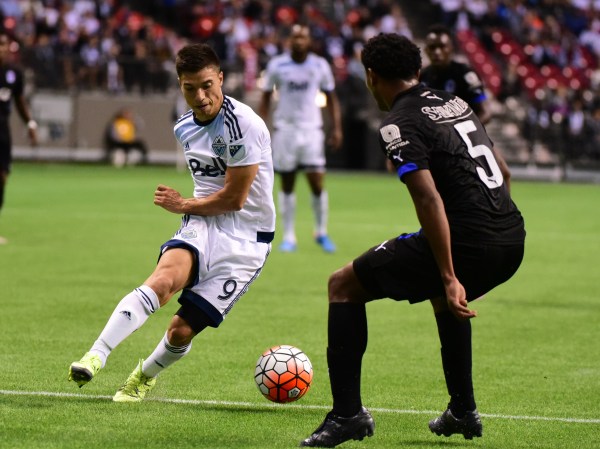 Photo by Anne-Marie Sorvin/USA TODAY Sports
By SBI SOCCER
With their backs against the wall, needing a win to stay alive in the CONCACAF Champions League, the Vancouver Whitecaps found their victory against the Honduran champions.
Despite a strong showing from CD Olimpia, Kianz Froese provided the lone goal for the Whitecaps en route to a 1-0 win at BC Place.
With the result, the Whitecaps are tied on points, four, with the Seattle Sounders in Group F, but they also have a game in hand on their Cascadia rivals.
The road to victory was not easy for the Canadian club, as Ever Alvarado headed a looping effort toward goal in just the 11th minute, but the ball bounced on and then over the Whitecaps' crossbar.
Minutes before halftime, though, Darren Mattocks fought off defenders before attempting to take a shot, but Froese ran onto the scene and flipped the ball up and over everyone and into the back of the net.
Roger Rojas almost equalized for the visitors in the 78th minute, but his attempt sailed well over the crossbar, and the Whitecaps held on for the win.
Vancouver will meet the Sounders on Sept. 23 at CenturyLink Field for the pair's second CCL encounter. A win on the road will see the Whitecaps advance to the knockout stage of the competition.
Here are highlights from Wednesday's win:
What do you think of the Whitecaps' win? Do you think Vancouver will escape the CCL 'Group of Death' or will the Sounders? Think Olimpia can still top the group?
Share your thoughts below?