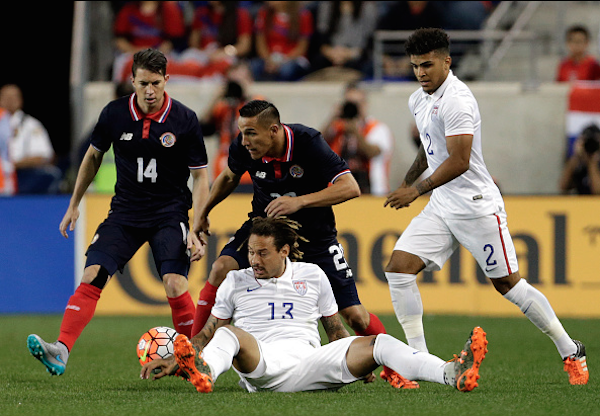 By FRANCO PANIZO
HARRISON, N.J. — Frustration was evident throughout the 90 minutes, and the U.S. Men's National Team put up another dud of a performance as its 2015 rut continued.
Nonetheless, both head coach Jurgen Klinsmann and the players expressed optimism that things will get better before World Cup qualifying begins next month.
The U.S. lost for the third straight game and was blanked at home for the first time in 34 matches on Tuesday night, as Costa Rica used a second-half strike from Joel Campbell to take a 1-0 win. The friendly at Red Bull Arena that came just three days after a narrow CONCACAF Cup loss to arch-rival Mexico not only added to the Americans' misery, but it sent the U.S. into World Cup qualifying reeling.
The road to Russia 2018 begins in earnest for Klinsmann and his players next month, but they remain confident that they will fight through adversity and improve. Things will get better, they believe, even if it is tough to see right now.
"We've got to go through some rain right now and it's not sunshine, but sooner or later the clouds will pass by and we'll find some sun again," said Klinsmann. "This is part of life. It's definitely not part of my character to give up because, as we've said, a couple of bad results with the outcome of the (CONCACAF) Gold Cup and obviously the Mexico clash. That sits in your stomach, but it drives you even more."
Klinsmann used Tuesday's friendly, played in front of a sparse crowd that booed the U.S. manager when he was introduced, to test out some newer, younger, and different faces. Only Jermaine Jones, Geoff Cameron, and Jozy Altidore had started three days prior in the extra-time defeat to El Tri, and the lack of continuity showed.
The Americans had some miscommunication and sharpness issues from the onset, with passes going astray often and the team lacking a real dangerous attacking edge. There were even times throughout the 90 minutes where players demonstratively barked at one another, showing just how frustrated they are by this recent poor run of form.
"I think we just need to play more as a team," said right midfielder DeAndre Yedlin. "I think we're not playing together as a team right now, and I think it shows."
Added left back Tim Ream: "We've all been in camps, we all know each other, we all know how each other plays, so we have to play to each other's strengths. Right now we're not really doing that."
That needs to change for the U.S. pronto, as its first pair of World Cup qualifiers take place next month at home against Saint Vincent and the Grenadines and on the road vs. Trinidad and Tobago. The former should be a cakewalk for the Americans, but beating the Soca Warriors in Port of Spain is far from a guarantee, especially with the U.S.'s inability to consistently create quality chances.
Against Costa Rica, the U.S. did not look to be on the same page for large spells and mustered just five shots while facing 14. Some of that was chalked up by Klinsmann and his players to a hangover of sorts from the disappointing defeat to Mexico over the weekend, and some of it was attributed to the amount of changes that went into the lineup so as to give reserves opportunities.
Regardless, everyone agreed that things need to improve and start clicking again.
"I see that we struggle to keep the ball," said Klinsmann. "I see that we struggle to have a combination, a rhythm, movement off the ball where you know where the other one runs when you put the ball into space and you know that he's running them. I see that.
"I also know what they went through this week. I'm not surprised that the game today went this way. It was not a surprise to me because it was obviously a really big moment that happened Saturday night at the Rose Bowl so this is something we have to work on. We have to lighten them up and say, 'Guys come on'. We have to get that spirit up again and start that process of movement off the ball, combination plays, one, two-touches and all those elements."
Getting back to those basics and playing as a cohesive unit would be solid first steps in rediscovering the form that allowed the U.S. to look real good in stretches in 2013 and 2014. Nonetheless, the consensus is that there is still a need to bring along younger talents like Yedlin, Bobby Wood, and Danny Williams, and that can also attribute to the choppy play.
"It's not doom and gloom," said Tim Howard. "I think we're a good team, and I think, in this region, we're going to qualify for the World Cup. It's not going to be easy, it's going to be hard as heck, but we'll figure it out and get the balance right."
The pressure is on for the Americans to turn things around as soon as possible. Fans and media alike have been very critical of Klinsmann and his team during this recent poor stretch, and anything short of improved performances and 4-6 points to start World Cup qualifying will further set off alarm bells.
The U.S. remains optimistic, however, that it will find its rhythm again and that panic mode will be averted.
"We're not the worst team in the world right now," said Howard. "It's fine. We'll get two wins against St. Vincent and Trinidad and everybody will be happy again."