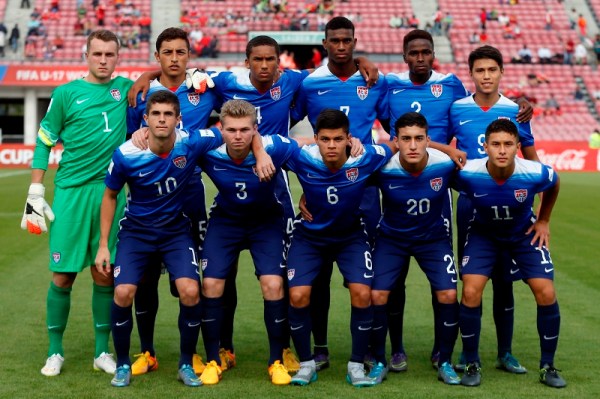 By RYAN TOLMICH
The U.S. Under-17 Men's National Team is quick to admit that this past Saturday's 2-0 loss to Nigeria was a difficult one to stomach, but the defeat will need to serve as a major lesson if the Americans are to continue to push towards the knockout stages.
That push continues Tuesday as the U.S. takes on Croatia in its second game of the U-17 World Cup (4 p.m., Fox Sports 2/NBC Universario).
Still, the loss to Nigeria continues to sting. After months of build-up and excitement, the U.S. struggled to generate on the attacking end, while a pair of momentary lapses and mistakes led to a pair of Nigeria goals. However, no matter how frustrating the opening loss was, the U.S. is now getting an immediate chance at redemption against another difficult opponent.
"After the first game, it was a little bit tough," said goalkeeper William Pulisic in a video released by U.S. Soccer. "We just have to learn from that one and move on. Croatia is a new challenge, and we feel like we've prepared for them very well. We're ready for it."
Added defender John Nelson: "We have to not think about the loss to Nigeria and come out because we know this game is going to be big for us. We need these three points."
The loss against Nigeria saw the U.S. fail to score, marking just the fifth time in 21 matches in 2015 that the team was shut out.
Boasting a roster with plenty of goal-scoring talent, the U.S. expected more of its forward pool in the game's opener. The trio of Haji Wright, Josh Perez and Joe Gallardo proved lethal in the buildup to the World Cup, but never really got going in the tournament debut.
The best chance of the opening game fell to Wright, who saw his first-timed shot on a low cross sail over the bar. If the U.S. is to compete with Croatia, the forward group will need to not only create more chances, but prove that it is not a team prepared to squander them.
"For us, we have to be a little bit better, looking at the Nigeria game, in the attack in terms of when we have opportunities and when we get into the final third," said head coach Richie Williams. "I think we need to be a little bit more aggressive, get some more shots on target and test their back four."
In Croatia, the U.S. now faces a major test, albeit a familiar one.
Although the two nations have never clashed in World Cup play, they did meet twice just last year. Registering a pair of 1-0 victories led by the play of midfield mainstay Christian Pulisic, the U.S. knows exactly what is to come from Croatia.
Still, it certainly won't be an easy road. The U.S. is just 5-11-1 against European competition in the history of the U-17 World Cup.
Croatia, meanwhile, will be looking to make some history of its own. Having conceded just one goal in their qualifying campaign, the Croatians are looking to advance beyond group play for the first time in the nation's history at this age level after two prior group-stage exits.
But for Croatia, the start to this year's tournament was an inauspicious one. After registering an eighth-minute opener from Nikola Mor, Croatia conceded 25 minutes later and settled for a 1-1 draw against hosts Chile.
Now, with both the U.S. and Croatia in need of points, it is likely that they go all out on Tuesday in an effort to move into a position to push on further into the tournament.
"I think we just have to be mentally prepared and physically prepared as well," Perez said. "Croatia is going to be a tough opponent and now we just have to stay positive and just go for it."