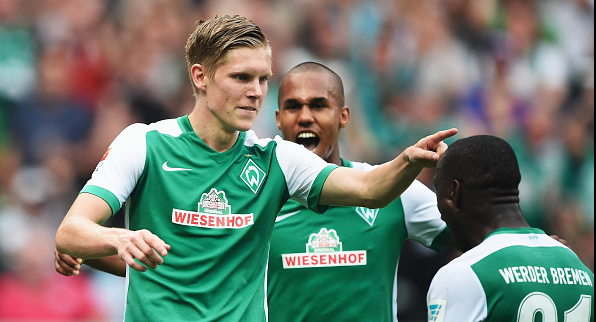 U.S. Men's National Team striker Aron Johannsson is set for some time on the sidelines after undergoing surgery.
Werder Bremen announced Wednesday that Johannsson underwent successful hip surgery in Berlin on Wednesday. Johannsson will now remain in Berlin before beginning a rehab stint with Bremen, while the club expects to be without the forward for "the coming weeks."
The injury will likely keep Johannsson out of World Cup qualifying, which is set to begin for the USMNT on Nov. 13.
"We have exhausted all non-surgical treatment options," said Werder team physician Dr. Philip Heitmann and, unfortunately, could not sustain freedom from pain."
The 24-year-old striker joined the German club from Holland's AZ Alkmaar this summer and has scored twice in six appearances. However, Johannsson has been sidelined since late September due to the nerve irritation in his right hip.
What do you think of the Johannsson news? Any concerns going forward?
Share your thoughts below.