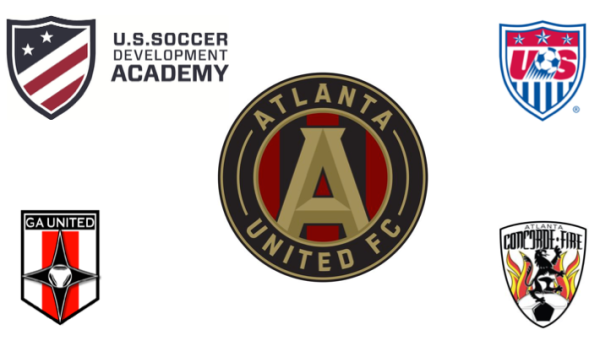 By IVES GALARCEP
ATLANTA— Major League Soccer's next expansion team is still more than a year and a half away from kicking off. We know the team's name, but its first head coach and first signing are still some ways away.
Something else we now know about Atlanta United is that the club isn't waiting around to start forming the building blocks of what it hopes to be a successful team.
Atlanta United is set to announce on Monday its plans to launch a full youth academy starting in the fall of 2016, with five age groups joining U.S. Soccer's Development Academy, the nation's premier youth setup.
Atlanta United will field teams in the U-12, U-13, U-14, U-16 and U-18 age groups in 2016, a year before the first team begins play. It is an aggressive timetable compared to those seen by past expansion teams, but owner Arthur Blank knows the importance of setting the right tone in a market he knows very well.
"We're bringing in everybody earlier than we have to based on the MLS timetable because you want to get them comfortable with the market, and understanding what's going on here," Blank told SBI. "Listening to everybody and getting a good sense of the soccer fabric in Atlanta.
"We'll do whatever we have to do to make sure it's first class and world class," Blank said of Atlanta United's youth academy. "We're equally excited about the youth part of this as we are excited about playing professionally."

Team president Darren Eales and technical director Carlos Bocanegra have already made inroads in the Georgia youth soccer community, a highly-competitive landscape that already features two top academy programs in Georgia United and Concorde Fire. In fact, Georgia United agreed to move out of the U-16 and U-18 Development Academy age groups to help make room for Atlanta United in 2016.
MLS teams haven't always enjoyed the most friendly of relationships with established youth clubs when entering into established markets, but when Atlanta United hosted a luncheon on Monday for members of the greater Atlanta soccer community, the sense was that there has been a very positive reaction to the club's arrival on the scene.
"They're not coming in trying to bulldoze," Concorde Fire director of coaching Ken Kurilec told SBI. "They're coming in saying 'How can we all work together? How can we make the whole program better? How can we market soccer better?' I think it's been nothing but positive and we fully support what they're doing. I think they've got the support of Georgia soccer."
"It's very professional, and Mr. Blank has been involved with our club for a long time, with his son playing for us, and we know how he approaches things with his ownership of the Falcons," Kurilec said. "I feel like the branding he brings to the academy is going to help us and everybody else."
Concorde United is a nationally-recognized club with 2000 players and more than 130 teams, and while Atlanta United's arrival into the market is destined to cost the club some top talent, the sentiment about the club's arrival remains positive.
"It'll be great to compete against them," Kurilec said. "Are they the upper part of the pyramid? Yes, but we'll compete and I think that's going to be the fun part of it. Many times, when someone new comes in and brings something better, and tries to raise the standard, that just makes everybody better."
For Georgia United, which has been the strongest club in the area in recent years, Atlanta United's arrival is coming at just the right time.
"I just think the community is ready for it," said Dave Smith, executive director of Georgia United. "The owner of the team has been a strong supporter of sports in Atlanta for a long time, and the minute we heard he was backing soccer I think it was easy for most of the city to get on board with.
"It'll impact our development academy program a little bit, but we believe it's going to impact it for the better and provide the best possible environment for us to grow talent out of Atlanta, and the state of Georgia, and even the Southeast to help feed through the Atlanta United program."
Launching the club in the fall of 2016 will mean a faster timetable on being able to bring Homegrown Players into the Atlanta United first team, and will also mean getting the ball rolling on improved player development options in a region that has already established a reputation for developing a high level of top talent, with Clint Mathis, Josh Wolff and, more recently, Sean Johnson and Jack McInerney among the ranks of professional players from Georgia.
"It's an established market, and there's already a talent pool, but adding a resource pool to the talent pool is going to be immense," said Clemson University head coach Mike Noonan. "You can see that there's a great deal of talent that has come through here, but I don't think it's been focused in the way it can be focused now."