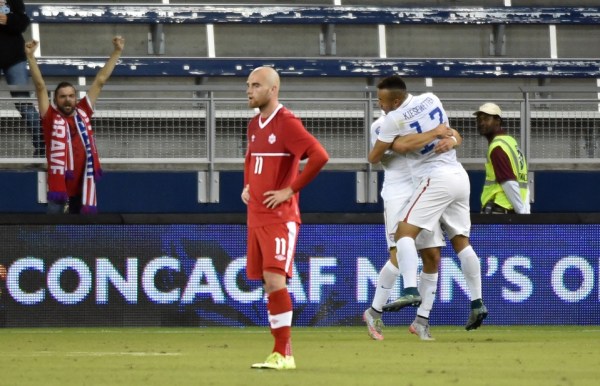 Photo by Peter G. Aiken/USA TODAY Sports
By RYAN TOLMICH
The U.S. Under-23 Men's National Team is off to a promising start.
Led by a Jordan Morris brace, the U.S. toppled Canada, 3-1, in the opening game of the team's Olympic qualifying run. In short, it was an impressive performance, one that should serve as a solid kickstart to the group stages.
Players like Jordan Morris and Jerome Kiesewetter did the attacking damage, while the team's young core of U-20 stars proved that they were certainly not in above their depth at the U-23 level.
Yet, it was not all rosy for the U.S., as there are still several improvements to be made as the team moves forward through qualifying.
Here are SBI's five takeaways from Thursday's U.S. U-23 victory:
MORRIS CONTINUES TO EXCEL, NO MATTER THE STAGE
No matter who the opponent, Jordan Morris just can't stop scoring.
Whether it's Mexico, SMU or Thursday's opponent, the Canada U-23s, Morris continues to hit the back of the net at a high rate. The Stanford youngster's impressive 2015 seems to have no sign of stopping following another two-goal performance in Thursday's triumph.
While Morris' first goal was little more than a simple header at the doorstep, his second showed plenty of the qualities that has made U.S. fans salivate. Played through by Wil Trapp, Morris showed off his wheels to chase down the ball over the top. Then, with a defender on his hip, Morris battled through with strength before launching a shot under the goalkeeper coming out.
Morris just seems to have "it," as well as every tool needed to become a successful striker. If Thursday's performance was any indication, this qualifying tournament could just be yet another launching pad as the 20-year-old pushes towards his long-awaited move to the professional ranks.
KIESEWETTER'S COMING OUT PARTY
While Morris may have snagged the plaudits based on statistics, Jerome Kiesewetter might just have been the most dynamic American player on the field.
After emerging as a standout at this past summer's Toulon Tournament, Kiesewetter was dynamic yet again in Thursday's victory. Given freedom to move throughout the front line, Kiesewetter was, in short, a menace, one that gave Canada fits all night.
The Stuttgart youngster helped kickstart the U.S. attack with an assist on the opening goal, but it didn't stop there. Throughout, Kiesewetter snuck in behind the back line to find looks on goal while helping draw eyes away from Morris. In reality, Kiesewetter was unlucky not to score, as he was certainly deserving of a signature moment from a spectacular night.
When assessing his Toulon performances along with that of Thursday evening, Kiesewetter looks to be a lot better than a lot of people give him credit for. While he may not receive the hype of a Morris, Kiesewetter looks like he might just be every bit as talented, and every bit as important as the team continues to march through qualifying.
CENTRAL MIDFIELD BUILT FOR SUCCESS
Ahead of the tournament's start, it was easy to see that the central midfield was going to be a point of strength for the U.S. U-23s. That was apparent Thursday night.
While the duo of Wil Trapp and Fatai Alashe controlled play from their assigned deeper roles, Emerson Hyndman and Gedion Zelalem were given room to flourish in the attacking end. On paper, the four form what is essentially a perfect balance of talent, grit and creativity to make a team tick.
Although Zelalem appeared slightly off his game, Hyndman shined. In truth, the U-23 team as assembled is built for a player like Hyndman to thrive. With Trapp and Alashe holding down the fort, Hyndman can take full advantage of his ability to see the game. He did so repeatedly Thursday night, finding Morris and Kiesewetter time and time again with cutting, precise passes that carved up the Canada back line.
Although there were some issues in terms of spacing, the midfield, as a whole, looked solid. Yet, with players like Marc Pelosi and goalscorer Luis Gil more than ready to make an impact, it's up to head coach Andi Herzog to keep things ticking for a talented midfield unit.
MIAZGA, CARTER-VICKERS STEP UP A LEVEL
Ahead of the qualifying tournament, Herzog said he was prepared to lean on his U-20 stars, including Matt Miazga and Cameron Carter-Vickers. The duo made Herzog look good Thursday, as both put in strong performances to help lead the U.S. back line.
Although not a flawless performance, Carter-Vickers looked far from over his head, despite being up to six years younger than those he was facing. At just 17, Carter-Vickers is more than ready to compete, even if it won't always be easy-riding against the age group's top teams.
Miazga was likely the better of the two, with the Red Bulls defender coming up big time and time again. Even when Canada was able to sustain pressure, Miazga was there to clean up any and every mistake before the danger became too great.
Prior to the tournament, Herzog said it's a matter of months, not years, before Miazga gets a look at the senior level. Thursday's performance was just another example to back that up in what could be Miazga's second crucial tournament run of 2015.
PERFECT START, BUT NOT A PERFECT PERFORMANCE
Thursday's clash with Canada yielded the ideal result, but it certainly wasn't quite the ideal performance from the U.S.
Although there is plenty of praise to go around, there is still plenty of improvement to be made as this group continues to come together throughout the tournament. In reality, Canada was a team that was always overmatched, yet it did find moments of success that made Thursday's game a bit too nervy.
For one, the U.S. will need to do a better job with controlling spacing. Especially in the second half, Canada was able to find pockets of space in the midfield that threatened to open up the U.S. defense. On another night, or against a better team, the U.S. could have been punished quite frequently for being a bit too lax on the defensive end.
Improvements like that come with time, something which the U.S. actually has on its side. In command of their group with Thursday's win, the U.S. still has the group stage to get things sorted ahead of the do-or-die knockout rounds. Yet, if the last cycle taught anything, it's that minor lapses could be a death wish, making it paramount that the U.S. continues to improve as the tournament moves on.