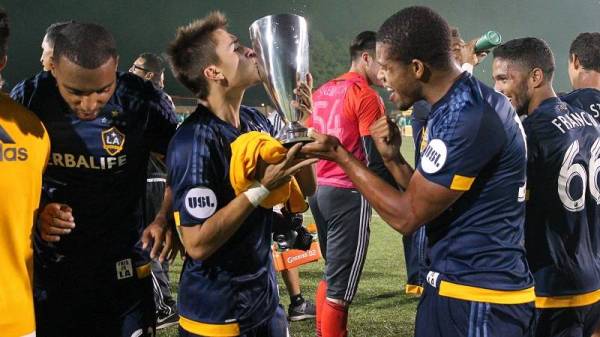 Photo by LA Galaxy II/USL
By COLE KELLOGG
Victories for the Rochester Rhinos and the Los Angeles Galaxy II have set up the 2015 USL Championship match for Friday.
The Eastern Conference representative, the Rhinos, defeated a strong-willed expansion side in Louisville City FC by a scoreline of 1-0 in the semifinals. The Rhinos finished the regular season as the top overall team by a long shot, ending with 61 points to separate themselves from the nearest competitor by 13 points.
On the other side of the country, the Galaxy II, who held the penultimate playoff spot in the Western Conference, rode an early lead to a 2-1 victory over Oklahoma City Energy FC.
The Rhinos advance to the final off of a Vassilios Apostolopoulos goal in the 21st minute. Steevan dos Santos put a header on frame, but the ball bounced back out for Apostolopoulos to tap home for his first goal for the team.
The Rhinos were particularly impressive in defense during the match, holding the highest scoring regular season team in Louisville City to only three shots. A late sending off for dos Santos wouldn't matter to the Rhinos, as the stout defensive side held onto the result and will reap the reward.
Los Dos found fluidity in their attack early on Sunday night, scoring twice in a span of 20 minutes to drain all of the energy out of Oklahoma City.
Ariel Lassiter scored his third goal in two playoff games to get things started in just the seventh minute. The son of former U.S. international Roy Lassiter took advantage of a poor clearance, putting the final touch on a Galaxy free kick from deep.
Los Dos doubled the lead in the 23rd minute in another set piece situation. This ball needed no tapping in, though, as Andre Auras struck a magnificent dipping shot over the wall from 25 yards out.
Dominance from the home team continued for the first half, but the Energy came out with a point to prove late in the match. Coady Andrews headed home a Sebastian Dalgaard corner kick to halve the Galaxy's lead, but the home side did not allow for a late equalizer.
The Galaxy rode into the semifinals after playoff victories over Sacramento Republic and the Orange County Blues. The Rhinos only needed a win over New York Red Bulls II, bypassing the first round of the playoffs as the top seed in the East.