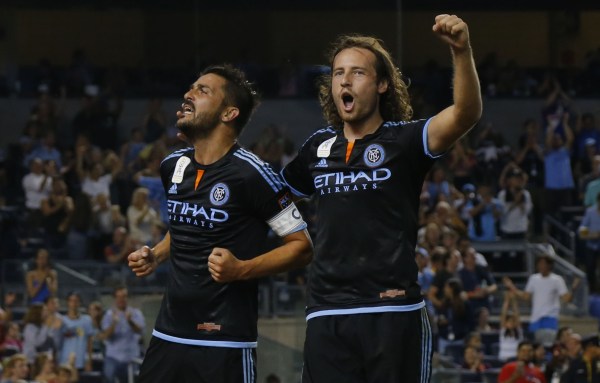 Photo by Noah K. Murray/USA Today Sports
By MICHAEL PENG
PURCHASE, N.Y. — Riding a three-match winning streak, New York City FC is clicking its cylinders at the right time. And while the timeliness of this run remains to be seen, it's something not many may have expected just a month ago.
An exasperated Jason Kreis sat in front of the podium at Yankee Stadium on Aug. 29 and had some harsh words for some of his players following their 2-1 loss to the Columbus Crew.
"We need to show — the players need to show — if they want to be here and they want to be a part of this, because I know the coaching staff does," the NYCFC head coach said that day. "I know the coaching staff cares an awful lot about this club and the job that we're attempting to do, but I'm not so sure that all the players do."
That was then, when NYCFC had just lost for the fourth time over its previous six games. Since that loss, apart from dropping a 2-1 result on the road to FC Dallas, NYCFC has picked up wins against Toronto FC, San Jose Earthquakes and the then-West-leading Vancouver Whitecaps at BC Place.
What changed?
"I think the players have showed a higher level of commitment from after that game onwards," Kreis said Thursday after NYCFC's training session at SUNY Purchase. "My point being that I think we have the talent in the group, there is no doubt we have the talent in the group, so it comes down to a question of desire and work rate.
"I think when we have the desire and the work rate and the togetherness, we will win games, and if we don't, we won't win games. I think that's just very typical for MLS, I don't think that anybody has enough talent in this league to skate by on talent alone."
Boasting players such as David Villa, Frank Lampard and Andrea Pirlo, NYCFC certainly does not lack the tools to be successful, but the minutes the trio has had together this season has been limited — with the latter two joining mid-season, and the lack of stability the team has had on the pitch is what Villa believes to have caused the team to be in a less-than-ideal position right now.
"We have been inconsistent the whole season, obviously in the beginning we didn't win 12 or 13 games, which really affected us," Villa said. "Halfway through the season the team improved but it wasn't as consistent as we wanted… It's just been an inconsistent year which makes it difficult to be in top positions."
"I think a lot of this is just down to time," Kreis said. "I felt like right before we had all the new players in the summer, we were coming to a really good point. I think everybody had a good continuity and a good idea of what we are after. I think after we added a bunch of new players, we kind of took a step backwards, but now I feel like we have taken two steps forward."
NYCFC may be playing arguably its best soccer of the season right now, but with only three games remaining on its schedule — including Friday's clash in the nation's capital against D.C. United — and a five-point gap between the club and sixth-place Montreal, which also had two games in hand, Kreis' club may not be able to decide its own fate at this point of the season. Nevertheless, the increase in effort and cohesion is coming better late than never.
"I feel like we are in a good spot right now at the exact right time," Kreis said. "Let's just hope it's not a little too late."