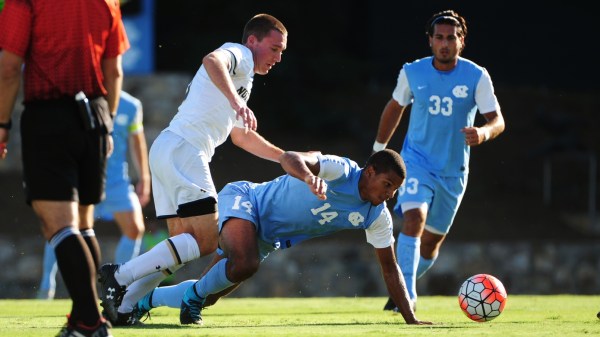 Photo by UNC Athletic Communications/Jeffrey A. Camarati
By AARON CRANFORD
After sprinting to the top of the ACC with four wins, SBI No. 2 North Carolina finds relief against a non-conference opponent.
No. 15 UNC-Wilmington won't be an easy task, though.
The Tar Heels will host the Seahawks Tuesday at Fetzer Field in one of only two SBI Top 25 battles of the week.
While the Seahawks, led by goalscorers Colin Bonner, Ben Fisher and Daniel Escobar, started the season scoring goals at will, the pace has slowed down in recent games, as the team has only scored twice in its last three games.
The Tar Heels are still one of only five undefeated teams remaining in the country.
In the midweek's only other Top 25 showdown, No. 5 Wake Forest will look to continue to its winning ways against No. 23 South Carolina, which is riding a four-game win streak of its own.
Here is a rundown of where all of the top teams will be playing this week:
MONDAY
7 p.m. – (7) Virginia vs. Portland
7 p.m. – (11) Denver vs. Gonzaga
7 p.m. – Duke vs. (22) Hofstra
TUESDAY
7 p.m. – (2) North Carolina vs. (15) UNC Wilmington
7 p.m. – (5) Wake Forest vs. (23) South Carolina
7 p.m. – Charlotte vs. (6) Clemson
7 p.m. – (10) Akron vs. Santa Clara
7 p.m. – Syracuse vs. Albany
7 p.m. – Harvard vs. (20) New Hampshire
7 p.m. – Brown vs. Boston College
8 p.m. – (1) Creighton vs. Drake
WEDNESDAY
4 p.m. – Presbyterian vs. (8) Coastal Carolina
7 p.m. – (8) Notre Dame vs. Michigan
7 p.m. – (24) Elon vs. Northeastern
7 p.m. – UCF vs. Temple
8 p.m. – Tulsa vs. (25) South Florida
THURSDAY
7 p.m. – (18) UCSB vs. UC Riverside