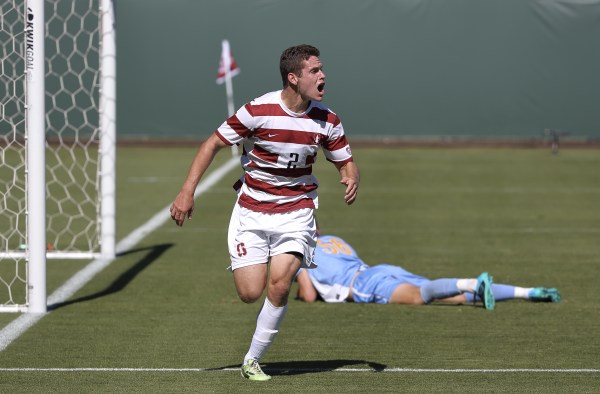 Photo by Hector Garcia-Molina/StanfordPhoto.com
By AARON CRANFORD
SBI No. 3 Stanford may not have had its star forward for the Bay Area Derby Sunday, but a common goalscorer stepped up for the Cardinal.
While Jordan Morris is away with the U.S. Under-23 Men's National Team, Stanford cruised to a two-goal lead against California before the Golden Bears pegged one back. The Cardinal held on in the second half for an important 2-1 win on the road.
Brandon Vincent finished from the penalty spot in the first half, while sophomore forward Foster Langsdorf scored the game-winner three minutes later, giving him his third of the season and the team its eighth consecutive victory. Corey Baird assisted the latter, which brings his total to six on the season. Jose Carrera-Garcia tallied for Cal, but a second-half comeback couldn't be mounted.
In Cincinnati, overtime was needed, but No. 9 Georgetown continued to build its resume with a huge 1-0 win against No. 14 Xavier.
The Hoyas started the year without a win or goal in their first three games, but they have since been one of the nation's best sides. Saturday, Georgetown continued to impress, as Keegan Rosenberry scored the golden goal to stretch the team's undefeated streak to seven games.
Elsewhere, No. 1 Creighton became the first team to achieve 10 wins on the year, recording a 1-0 result against DePaul on the back of another Fabian Herbers game-winning goal.
In the powerful ACC, No. 2 North Carolina, No. 5 Wake Forest and No. 6 Clemson all coolly handled their respective weekend's challenge.
Here are the results from this past weekend in college soccer:
FRIDAY
Pittsburgh 0, (2) North Carolina 2. (RECAP)
Boston College 0, (5) Wake Forest 5. (RECAP)
(6) Clemson 2, Virginia Tech 0. (RECAP)
(7) Virginia 3, Louisville 2. (RECAP)
(11) Denver 1, IUPUI 1. (RECAP)
(13) Seattle 5, UMKC 1. (RECAP)
(19) Washington 1, San Diego State 0. (RECAP)
Marshall 1, (23) South Carolina 2. (RECAP)
Duke 1, Syracuse 3. (RECAP)
UNLV 2, Houston Baptist 1. (RECAP)
SATURDAY
(1) Creighton 1, DePaul 0. (RECAP)
(14) Xavier 0, (9) Georgetown 1. (RECAP)
UAB 1, (10) Akron 2. (RECAP)
Florida Atlantic 1, (12) Old Dominion 2. (RECAP)
James Madison 0, (15) UNC Wilmington 0. (RECAP)
(16) Florida International 0, Charlotte 1. (RECAP)
Massachusetts-Lowell 1, (20) New Hampshire 3. (RECAP)
William & Mary 0, (22) Hofstra 1. (RECAP)
Temple 0, (25) South Florida 1. (RECAP)
SUNDAY
California 1, (3) Stanford 2. (RECAP)
(21) North Carolina State 1, (4) Notre Dame 1. (RECAP)
(13) Seattle 2, Air Force 0. (RECAP)
(17) New Mexico 0, Kentucky 1. (RECAP)
(19) Washington 2, UCLA 3. (RECAP)
UNLV 0, UT-Rio Grande Valley 1. (RECAP)