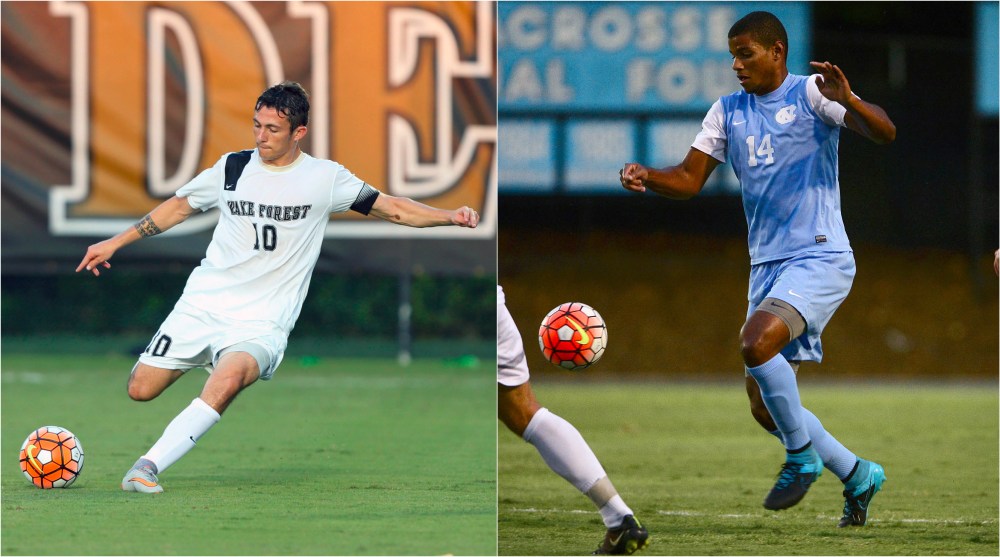 With many of the nation's top teams hailing from the ACC, heavyweight showdowns are bound to occur every other weekend.
One of those match-ups during this round of action kicks off in Winston-Salem, North Carolina Saturday (7 p.m., ESPN3).
SBI No. 5 Wake Forest hosts No. 2 North Carolina in college soccer's most intriguing affair this weekend. The Tar Heels enter the game with 11 wins, one tie and no losses on the year, while Wake Forest has only tasted defeat once in 12 games.
For Wake Forest, goal-scoring opportunities will likely come from senior forward Michael Gamble or freshman star Jack Harrison, who has been lighting up the field in his first season by posting four goals and seven assists to date.
Alan Winn and Tucker Hume lead all Tar Heels with six goals apiece, but Hume has only started one game for North Carolina, playing half as much time as Winn. Head coach Carlos Somoano is using him more as an impact substitute, and the plan is working wonders so far.
Meanwhile, the West Coast also offers college soccer fans a must-see rivalry game, as No. 3 Stanford visits UCLA, which may finally be starting to turn its season around.
Jose Hernandez and Seyi Adekoya have seven goals each for the Bruins in the 2015 campaign, and UCLA most recently posted back-to-back conference wins. The Cardinal will hope to stop that streak quickly, though, and will have a U.S. Under-23 Men's National Team player in its arsenal to help.
Forward Jordan Morris rejoins Stanford after helping the U.S. U-23s finish third in the 2015 CONCACAF Men's Olympic Qualifying Championship. Morris has four goals this season but so to does Foster Langsdorf, and both will be looking to tally another against their Pacific 12 rivals on Friday.
Here is a rundown of where all of the top teams will be playing during the seventh weekend in men's college soccer:
THIS WEEKEND'S COLLEGE SOCCER SCHEDULE
FRIDAY
5:30 p.m. – Virginia Tech vs. (6) Notre Dame
7 p.m. – (14) Virginia vs. Pittsburgh
7 p.m. – Louisville vs. (18) Boston College
7 p.m. – Duke vs. (22) North Carolina State
7:30 p.m. – (25) Maryland vs. Indiana
10:30 p.m. – (16) Seattle vs. CSU Bakersfield
11 p.m. – UCLA vs. (3) Stanford
SATURDAY
12 p.m. – (11) Coastal Carolina vs. Liberty
1 p.m. – DePaul vs. (8) Georgetown
6 p.m. – Radford vs. High Point
7 p.m. – (5) Wake Forest vs. (2) North Carolina
7 p.m. – (13) Syracuse vs. (4) Clemson
7 p.m. – (7) Akron vs. Northern Illinois
7 p.m. – Cal Poly vs. (20) UC Santa Barbara
7 p.m. – Florida International vs. (10) Old Dominion
7 p.m. – College of Charleston vs. (17) Hofstra
7 p.m. – (15) Elon vs. James Madison
7 p.m. – Cincinnati vs. (19) SMU
7 p.m. – Army vs. (23) American
7 p.m. – William & Mary vs. (21) UNC-Wilmington
8 p.m. – Marquette vs. (1) Creighton
8 p.m. – Memphis vs. (12) South Florida
9 p.m. – (9) Denver vs. Omaha
SUNDAY
12 p.m. – Kentucky vs. South Carolina
2 p.m. – (24) Ohio State vs. Wisconsin
2:30 p.m. – San Diego State vs. (3) Stanford
6 p.m. – (16) Seattle vs. San Jose State
8 p.m. – Washington vs. Oregon State