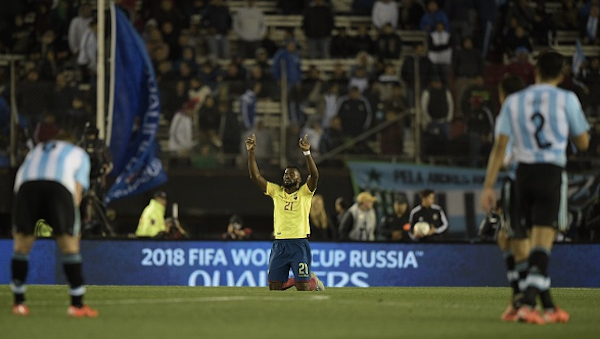 By FRANCO PANIZO
Not having Leo Messi proved costlier than imagined.
Argentina was stunned at the start of its 2018 World Cup Qualifying campaign on Thursday, as a pair of late goals scored a minute apart doomed El Albiceleste to a 2-0 home loss to Ecuador. Veteran centerback Frickson Erazo netted the winner in the 81st minute with a header off of a corner kick, and seconds later, Felipe Caicedo one-timed a low cross from Antonio Valencia on a quick counterattack to kill off the game at Estadio Monumental in Buenos Aires.
The Argentines were without their talisman in Messi in this match because of an injury he picked up with Barcelona, but adding to their woes was the loss of forward Sergio Aguero in the first half. Aguero had to be removed from the game on a stretcher in the 24th minute with a serious-looking hamstring problem, forcing Argentina head coach Gerardo Martino into making an early substitution.
Ecuador was outshot in the match, 11-7, and lost the possession battle by a 64-36 mark, but it still managed to find timely goals to get its World Cup qualifying bid off to an incredible start.
Here are the rest of the results from CONMEBOL's first round of qualifying for Russia 2018 and the current standings:
CHILE USES SECOND-HALF GOALS TO SINK BRAZIL
Chile picked up right where it left off in the Copa America.
Second-half strikes from Eduardo Vargas and Alexis Sanchez catapulted the reigning South American champions to a 2-0 victory over Brazil. Vargas found a 72nd-minute winner when he volleyed home a free kick from Matias Fernandez, and Alexis Sanchez iced the game with a close-range finish near the death to send the home crowd into a frenzy.
The victory was Chile's first over Brazil in 15 matches. The Selecao was last bested by the Chileans in 2000.
Brazil was without suspended forward Neymar at Estadio Nacional in Santiago, and it failed to create as many scoring chances as Chile. The Chileans hit the post twice in the match.
GUTIERREZ, CARDONA SCORE AS COLOMBIA TOPS PERU
Colombia and Peru met for the third time this year, and for the first time, there was a winner.
Colombia blanked Peru, 2-0, at Estadio Metropolitano Roberto Melendez in Barranquilla in a match played in hot and humid conditions. Teofilo Gutierrez took advantage of lax defending and scored the decisive goal with a header in the first half before Edwin Cardona capped a lightning-quick counterattack with the game's final kick in the 95th minute.
Peru, playing without injured duo Jefferson Farfan and Juan Manuel Vargas, had a pair of chances to pull level in the second half. Paolo Guerrero was denied by the post on the blanquirroja's clearest attempt, and substitute forward Yordy Reyna failed to place a stinging shot on frame late.
FC Dallas' Fabian Castillo made a late cameo for the James Rodriguez-less Colombia, coming off the bench in the 93rd minute to earn his first World Cup qualifying cap.
URUGUAY GRABS HISTORIC FIRST WIN IN LA PAZ
When Thursday began, Uruguay had never won a game in La Paz. When it ended, that was no longer true.
Martin Caceres scored 10 minutes in and Diego Godin added an insurance goal in the second half to pace Uruguay to a historic 2-0 triumph over Bolivia, which finished with 10 men following the 71st-minute ejection of left back Jair Torrico.
Caceres came through for a Uruguay side missing top strikers Luis Suarez and Edinson Cavani because of suspension when he fired an early rebound into the back of the net. Godin then added some cushion to the lead by heading a free kick in from close range during the 69th minute.
Bolivia came close to equalizing in the first half through forward Yasmani Duk, but his powerful attempt from an angle smacked off of the crossbar. Any remaining chance Bolivia had of salvaging a result was lost when Torrico earned a second yellow.
PARAGUAY CAPITALIZE ON VISCARRONDO BLUNDER
It looked like Venezuela and Paraguay were destined to end in a goal-less draw, but a late blunder from Oswaldo Vizcarrondo changed all that.
Paraguay capitalized on a an ill-fated back-pass from Vizcarrondo and prevailed, 1-0, on the road in Ciudad Guayana. The Venezuelan centerback attempted to chest a ball to goalkeeper Alan Baroja in the 85th minute, but the lack of power behind it allowed an alert Derlis Gonzalez to pounce on it.
Gonzalez collected the ball and slotted it into the back of the net, giving the Paraguayans the three points at Centro Total de Entretenimiento Cachamay.
STANDINGS (Round 1)
1. Chile (3 points | 1-0-0 | 2 Goals For | 0 Goals Against)
2. Colombia (3 points | 1-0-0 | 2 Goals For | 0 Goals Against)
3. Ecuador (3 points | 1-0-0 | 2 Goals For | 0 Goals Against)
4. Uruguay (3 points | 1-0-0, 2 Goals For | 0 Goals Against)
5. Paraguay (3 points | 1-0-0 | 1 Goal For | 0 Goals Against)
6. Venezuela (0 points | 0-1-0 | 0 Goals For | 1 Goal Against)
7. Argentina (0 points | 0-1-0 | 0 Goals For | 2 Goals Against)
8. Bolivia (0 points | 0-1-0 | 0 Goals For | 2 Goals Against)
9. Brazil (0 points | 0-1-0 | 0 Goals For | 2 Goals Against)
10. Peru (0 points | 0-1-0 | 0 Goals For | 2 Goals Against)
—–
What do you think of this first round of CONMEBOL World Cup qualifiers? How stunned were you to see a Messi-less Argentina lose? Fully expect Brazil to bounce back from its defeat to Chile?
Share your thoughts below.