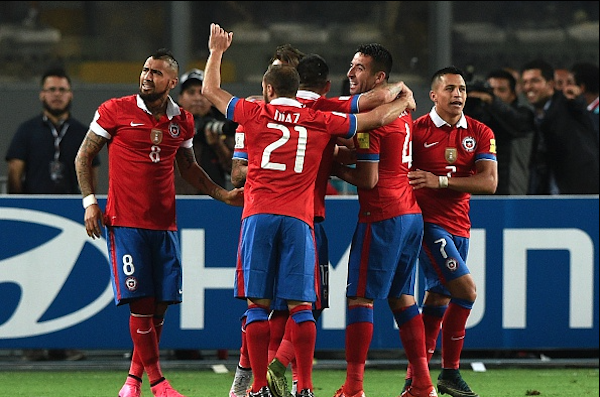 By FRANCO PANIZO
An early red card doomed Peru and catapulted Chile to victory in their last meeting.
It happened again Tuesday.
Chile moved to 2-0 in CONMEBOL World Cup qualifying for Russia 2018 by edging 10-man Peru, 4-3, at Estadio Nacional in Lima. Alexis Sanchez and Eduardo Vargas led the way with two goals apiece, but the biggest talking point was the ejection of Peru midfielder Christian Cueva in the 23 minute.
With the game at 1-1, Cueva frustratingly lashed out at a foul from Jorge Valdivia by throwing the ball at the Chilean midfielder. Referee Nestor Pitana saw the incident and went straight to his back pocket, sending Cueva off and leaving Peru down a man.
Peru still managed to take the lead in the 36th minute through Jefferson Farfan's second goal of the game on a controversial penalty kick, but Chile proved too be to much and took a 4-2 lead before Paolo Guerrero pulled one back in second-half stoppage time.
Sanchez finished with two goals and an assist.
Here are the rest of the results from CONMEBOL's second round of qualifying for Russia 2018 and the current standings:
URUGUAY TROUNCES COLOMBIA
Colombia won its first match of qualifying via shutout, but got a taste of its own medicine from Uruguay.
Uruguay humbled Colombia, 3-0, at Estadio Centenario in Montevideo. Los Charruas were missing suspended attacking tandem Luis Suarez and Edinson Cavani, but got goals from Diego Godin, Diego Rolan, and Abel Hernandez to stay perfect in the qualifying campaign.
The Uruguayan defense, which helped post a historic 2-0 cleansheet vs. Bolivia in Round 1, again accomplished its mission of not conceding. Adding insult to injury for Colombia in the lopsided loss was Juan Cuadrado receiving a red card in the 93rd minute.
ARGENTINA FAILS TO SCORE AGAIN WITHOUT MESSI IN DRAW WITH PARAGUAY
Leo Messi might not score for Argentina at the same rate that he does for Barcelona, but his country seemingly cannot find the back of the net without him.
Argentina's attack sputtered for the second straight match, as it failed to score again in a goalless draw with Paraguay. Albiceleste manager Gerardo Martino still fielded a talented front four without the injured Messi, but Carlos Tevez, Angel Di Maria, Ezequiel Lavezzi, and Javier Pastore could not find a way through Paraguay's back line at Estadio Defensores del Chaco in Asuncion.
The result moved Paraguay to four points through two games, and Los Guaranies have not conceded in two matches thus far. Argentina, meanwhile, sits in seventh place right now with 1 point and no goals.
ECUADOR LEAVES IT LATE AGAIN AGAINST BOLIVIA
Ecuador used two goals in the waning minutes of its road match vs. Argentina last week to come out on top, and there was a bit of deja vu at Estadio Olímpico Atahualpa in Quito.
Ecuador scored twice after the 80th minute to prevail, 2-0, against Bolivia. Miler Bolanos netted the winner in the 81st minute with a nifty angled run and low finish, and Felipe Caicedo put the exclamation point on the victory five minutes into second-half stoppage time with a penalty kick he earned.
The Bolivians, like Argentina last week, seemed set to finish with a share of the spoils before Ecuador turned it on. The loss is now Bolivia's second straight via a 2-0 mark, and puts them in last place in the table.
BRAZIL BACK ON TRACK WITH HOME WIN VS. VENEZUELA
Fifteen months after a humiliating exit from the 2014 World Cup, Brazil treated its home fans to a much-needed victory in a match of importance.
Brazil knocked off Venezuela, 3-1, at Estadio Governorador Placido Aderaldo Castelo in Fortaleza, with Willian providing a first-half brace that ultimately proved to be the difference for an O Canarinho side that has been under heavy scrutiny in recent months.
Willian struck a minute into the match that followed last week's 2-0 discouraging defeat to Chile, and again in the 42nd minute. Venezuela pulled one back through Christian Santos in the 64th minute to make a game of it, but Ricardo Oliveira put the game out of reach 10 minutes later.
STANDINGS (Round 2)
1. Uruguay (6 points | 2-0-0, 5 Goals For | 0 Goals Against)
2. Ecuador (6 points | 2-0-0 | 4 Goals For | 0 Goals Against)
3. Chile (6 points | 2-0-0 | 6 Goals For | 3 Goals Against)
4. Paraguay (4 points | 1-0-1 | 1 Goal For | 0 Goals Against)
5. Brazil (3 points | 1-1-0 | 3 Goals For | 3 Goals Against)
6. Colombia (3 points | 1-1-0 | 2 Goals For | 3 Goals Against)
7. Argentina (1 point | 0-1-1 | 0 Goals For | 2 Goals Against)
8. Peru (0 points | 0-2-0 | 3 Goals For | 6 Goals Against)
9. Venezuela (0 points | 0-2-0 | 1 Goals For | 4 Goal Against)
10. Bolivia (0 points | 0-2-0 | 0 Goals For | 4 Goals Against)
—–
What do you think of this first round of CONMEBOL World Cup qualifiers? How much better is Chile than the rest of the South American teams? Is Argentina in serious trouble without Messi?
Share your thoughts below.