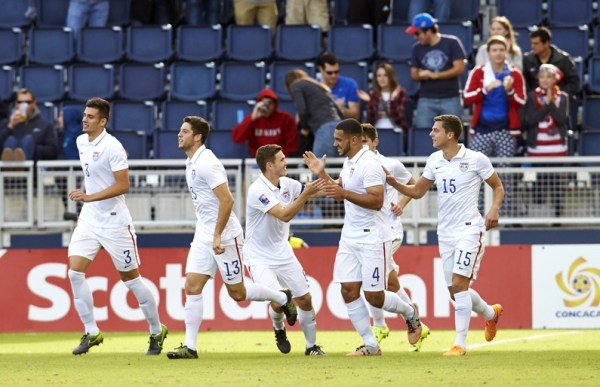 Photo by Gary Rohman/MLS/USA TODAY Sports
By RYAN TOLMICH
The U.S. Under-23 Men's National Team continues to roll through Olympic qualifying.
Facing off with an overmatched Cuba, the U.S. cruised to a 6-1 victory on Saturday night to seal a stranglehold on the team's group. It was another impressive performance from the Americans, who look to continue to peak ahead of the crucial knockout round.
For head coach Andi Herzog, there were plenty of positives to takeaway from Saturday's performance. Jerome Kiesewetter and Jordan Morris continued to shine in less than 60 minutes of action, while Emerson Hyndman put in a Man-of-the-Match performance.
Here are SBI's takeaways from Saturday's game:
DON'T LOOK TOO MUCH INTO SCORELINE AS TOUGHER TESTS LOOM
A 6-1 win is a 6-1 win, but it matters little in how this U.S. team will be perceived.
Cuba had very little hope of even competing on Saturday night. Facing a far more talented U.S. side, Cuba was weakened by defections, which left the roster even more bare than originally expected.
The U.S. proceeded to take care of business, as t should have, and that's all well and good. Three points are three points after all, especially if they result in group-stage advancement
Still, it's a result that one should come to expect. Through all age levels, the U.S. should be doing this to teams like Cuba.
For the Americans, this tournament will solely be judged on whether or not they qualify. Yes, resounding victories over the likes of Cuba are good for the team's confidence and statistics, but they matter little for a team that has such high expectations.
WEALTH OF OPTIONS IN CENTRAL MIDFIELD YIELDS QUESTIONS FOR HERZOG
Heading into qualification, the team's central midfield unit was earmarked as its biggest strength, and the clash with Cuba provided plenty of further evidence.
After an all-together impressive performance against Canada in the opening game using a 4-2-2-2 system, the central midfield was shuffled a bit ahead of the Cuba clash. Wil Trapp and Matt Polster were featured as holding midfielders, allowing Emerson Hyndman, Luis Gil and Jerome Kiesewetter to take charge in the attacking half.
The change paid dividends for Herzog, as each of the top trio put in notable performances while Trapp and Polster faced few problems from an overmatched Cuba. With that being said, the question for Herzog now becomes what these performances mean going forward.
With things all but done in group play, Herzog has some room to experiment in the final clash with Panama ahead of the crucial semifinal contest. That chance will surely be appreciated, but Herzog will need to figure out what his best lineup and formation is ahead of the knockout rounds.
With Trapp all but penciled in, one of Fatai Alashe or Polster could be his partner, but which? Hyndman continues to impress, but would he be better suited next to Gil or Gedion Zelalem? Is Kiesewetter best utilized in a more midfield position, or does he play better with Jordan Morris next to him?
Herzog would surely say the dilemmas are good ones to have, but they are questions nonetheless as the U.S. fine-tunes for the rest of the tournament.
MORRIS, KIESEWETTER PAIRING CONTINUES TO ELECTRIFY
Morris and Kiesewetter dominated Canada in the opening game of qualification. Yet, the duo may have looked even better Saturday against Cuba.
Kiesewetter bagged a brace, while Morris provided the helper on the Stuttgart attacker's first finish. Overall, it was another impressive performance from the two players that should lead the forward line heading into the knockout rounds.
Despite all of the hype surrounding him in the aftermath of his goal against Mexico back in the senior team's friendly in April, Morris has certainly lived up to every expectation to this point. The Stanford star has been dynamic due to his pace and strength, while his skill on the ball and vision have proven to be better than anticipated.
Kiesewetter, meanwhile, continues to shine, no matter the position. After starting the opening game up top, Kiesewetter was moved to a familiar spot in the right wing. The move did little to stifle his production, as Kiesewetter continues to be the team's best at putting himself in scoring positions.
IMPROVEMENTS TO BE MADE DESPITE RESOUNDING RESULT
A massive victory like Saturday's is always a result that will be regarded as impressive, but the U.S. still has plenty to work on going forward.
To say the result was flattering would be a disservice to the performance the U.S. put in. Facing an overmatched Cuba team, the U.S. did more than enough to take care of business in emphatic fashion. Yet, there are still plenty of issues to nitpick, especially given the volatile nature of the knockout stages.
Despite all of their successes against Cuba, the Americans had moments of uncertainty. Cuba was given chances to find success at times, especially in the late-game switch off that yielded a frustrating goal.
While some late-game laziness can be somewhat excused, some of the issues in possession remained from the opening game. At times, the U.S. struggled to string more than a few passes together, especially in a first half that wasn't exactly crisp.
With the pace of Morris up top, this U.S. team will always be one that will embrace the idea of the long-ball or a cutting pass into space. Yet, the need to maintain possession with short, simple passing remains, especially if the team needs to kill off a game in the knockout stages.