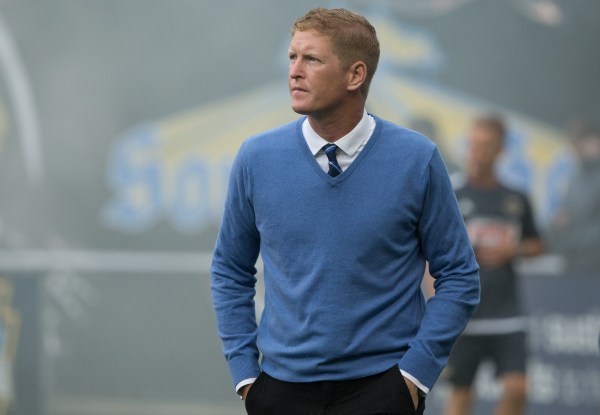 photo by Bill Streicher/USA Today Sports
By FRANCO PANIZO
Jim Curtin is likely to return as the head coach of the Philadelphia Union in 2016, but likely does not mean definitely.
Just a day after dismissing Nick Sakiewicz as the Union's CEO, club chairman Jay Sugarman held a conference call that lasted nearly 40 minutes on Friday to address a number of topics. One of them, naturally, was about the status of Curtin, who has been at the helm of the Union for the past season-and-a-half but struggled for results.
Curtin was unable to lead the Union to a win in a U.S. Open Cup final contested on home soil for the second consecutive year earlier this week, and Philadelphia is once again likely to miss the postseason in MLS play. Those mixed results have left the door open for a decision to be made on Curtin's future, a decision that will be made after the club hires the first sporting director in its history.
"Here's the good news: Almost all the candidates that I have talked to are definitely going to keep Jim in place," said Sugarman. "They like what he brings, the passion, the connection to the players, the connection to the community. I have almost no doubt and I think Jim should have no doubt that he should be preparing to be our coach for next season. I don't think that's going to be a problem."
Who that sporting director will be is unknown right now. Recent reports have identified former MLS coach Octavio Zambrano as the person to be hired, but Sugarman stated on a couple of occasions on Friday that a decision has yet to be made.
Zambrano does check off some of the qualities that Sugarman wants for the Union going into 2016 and beyond, including being familiar with MLS's intricacies and unique rules. Zambrano was previously the head coach of the New York/New Jersey MetroStars from 2000-2002 and was an assistant in Kansas City from 2009-2011.
Sugarman confirmed on Friday that Zambrano is one of "several candidates" being considered, but added that the evaluation process continues.
"No decision has been made," said Sugarman. "My goal is to have somebody in place by the end of the year, so there's no imminent decision. We are looking for somebody who covers as (much of our) criteria as we can, but we also understand that it's important to have somebody in place.
"We can't wait for perfection, but we think we've seen some strong candidates. We think they have helped us really think through what the opportunity set is. We have a few more we're continuing to talk with, and certainly by the end of the year we can put somebody in place that's going to elevate all parts of our team."
The Union are in sore need of that. The club has not reached the playoffs since its second season back in 2011, and optimism continues to fade away in Philadelphia.
Sugarman is confident, however, that things will change for the better in the years to come.
"I do think we see a very bright future, an era of real progress ahead of us," said Sugarman. "We have work to do, we will try to be as open as we can about things we do well and things we didn't do well. As long as we're fixing those mistakes, I'm really optimistic that we'll put the Union to a place where we can all be proud of it."