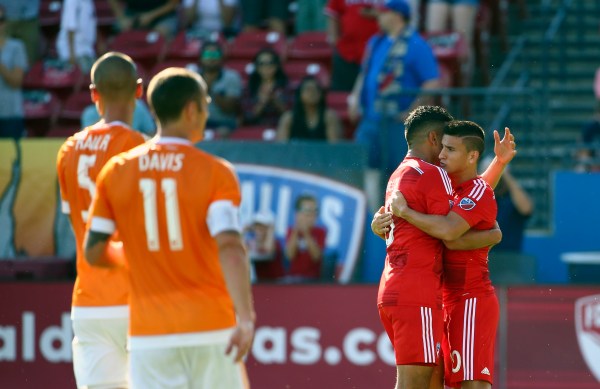 Photo by Kevin Jairaj/USA TODAY Sports
By SBI SOCCER
The title of Texas' best MLS team still belongs to FC Dallas.
Dallas and the Houston Dynamo squared off for the second time in 2015, but the result was the same, as Oscar Pareja's men came away the victors in a 4-1 result at Toyota Stadium. With the win, Dallas takes the 6-5 all-time MLS series lead between the two sides.
Mauro Diaz started the scoring from the spot in the first half, while David Texeira added two and Kellyn Acosta added one of his own in the second half to give FC Dallas its fourth consecutive MLS derby win. The win also helps Dallas maintain Supporters' Shield title hopes, as it moves into second place with 50 points as of the game's final whistle.

The Texas Derby saw its first goal of the day scored from the penalty spot. FC Dallas midfielder Mauro Diaz stepped up and slotted in his sixth goal of the season in just the 25th minute.
The Dynamo found their response before the break, though. Ricardo Clark sent a right-footed blast from a few steps outside the box into the bottom-left corner for the equalizer in the 36th minute.
Texeira quickly swung the momentum and lead back in the direction of Dallas. Six minutes into the second half, he received a short pass from Zach Loyd before fizzing an effort from well outside the box past goalkeeper Tyler Deric.
Acosta would stretch the Dallas lead to two just two minutes later. Fabian Castillo sent in a low cross to the 20-year-old near the six-yard box, and the Dallas youngster made no mistake, burying this third of the year.
With time winding down, Dynamo centerback Raul Rodriguez received a red card after preventing Michael Barrios from advancing on a counter. Texeira would finish in extra time to rub salt in the Dynamo wound.
The Dynamo are not mathematically eliminated but will need a win next time out against the Seattle Sounders on Oct. 18. Dallas will face off against the Vancouver Whitecaps Wednesday.