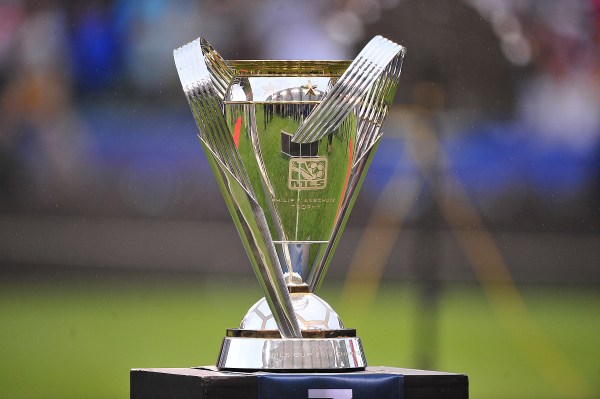 By SBI SOCCER
If you're a fan who believes your team will be playing on the final day of the MLS season, you can mark your calendars.
The 2015 MLS Cup final will be played on Sunday, December 6, the league announced on Friday. MLS unveiled the full playoff broadcast schedule.
The playoffs begin on Oct. 28, with the first two of four knockout round matches, while the conference final series will take place on November 22 and 29.
MLS will take a break in mid-November to work around the international fixture window, leaving a one-week gap between the conference semifinals and final.
Here is the full 2015 MLS playoff broadcast schedule:
2015 MLS PLAYOFF SCHEDULE
*Subject to change. Note: TSN and RDS networks will air matches involving the Canadian MLS clubs and select additional matches.
Knockout Round
(Conference Third seed vs. Sixth and Fourth seed vs. Fifth seed in a single knockout match; Clubs have the option of broadcasting their own Knockout Round match in market on English-language TV.)
Wed., Oct. 28
TBD (UniMás; English-language SAP)
TBD (UniMás; English-language SAP)
Thurs., Oct. 29
TBD (UniMás; English-language SAP)
TBD (UniMás; English-language SAP)
Eastern and Western Conference Semifinals
(Two-game series, aggregate-goal format between ConferenceFfirst seed vs. lowest advancing seed from Knockout Round and Second seed vs. highest seed from Knockout Round) 
First Leg – Sunday, Nov. 1
3 p.m. ET

(ESPN, ESPN Deportes)

5 p.m. ET

(ESPN, ESPN Deportes)

7 p.m. ET

(FS1, FOX Deportes)

9:30 p.m. ET

(FS1, FOX Deportes)
Second Leg – Sunday, Nov. 8
3 p.m. ET

(ESPN, ESPN Deportes)

5 p.m. ET

(ESPN, ESPN Deportes)

7:30 p.m. ET

(FS1, FOX Deportes)

10:00 p.m. ET

(FS1, FOX Deportes)
Conference Championships
(Two-game series, aggregate-goal format)
First Leg – Sunday, Nov. 22
5 p.m. ET

(ESPN, ESPN Deportes)

7:30 p.m. ET

(FS1, FOX Deportes)
Second Leg – Sunday, Nov. 29
5 p.m. ET

(ESPN, ESPN Deportes)

7:30 p.m. ET

(FS1, FOX Deportes)
2015 MLS Cup
Sunday, December 6 (hosted by finalist with best regular season record)
4 p.m. ET

(ESPN, UniMás, TSN, and RDS networks)