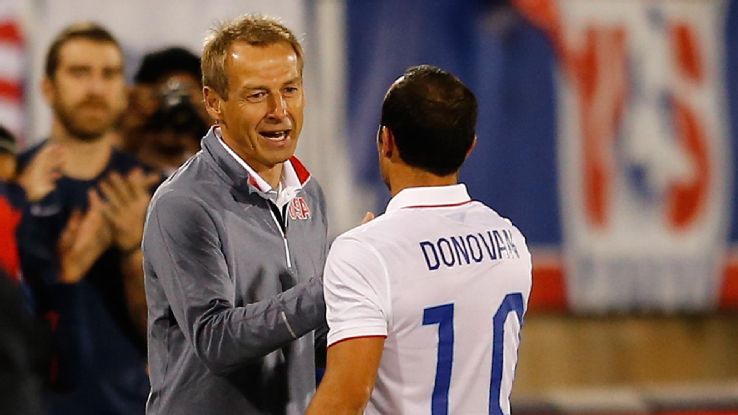 By SBI SOCCER
Throughout his tenure as U.S. Men's National Team head coach, Jurgen Klinsmann has called for his players to be accountable. Now, one of his most notable former players is asking the head coach to do the same.
In the aftermath of the USMNT's Gold Cup struggles, Landon Donovan says that he believes Klinsmann's status as head coach should be called into question should the U.S. lose to Mexico in the upcoming CONCACAF Cup. Donovan's comments come in the aftermath of a fourth-place finish in this past summer's Gold Cup, as the U.S. sputtered out against underdogs Jamaica in the semifinals.
"Around the world, if a player plays poorly and a player has a bad string of results they get dropped from the team," Donovan told ESPN FC. "Jurgen said many times he wants our players to feel pressure — so if they lose a game they can't go to the grocery store the next day. If they lose a game they are getting hammered in the press. Well, the same holds true for the coach and so we had a very poor summer with bad results in the Gold Cup.
"The last game against Brazil was probably the worst game I've seen them play under Jurgen. The reality is that now, anywhere else in the world, if this coach had those results, and they lose this game against Mexico, they'd be fired.
"I think if Jurgen wants to hold all the players to that standard, then he has to be held to that standard too."
The former U.S. Men's National Team midfielder has not always enjoyed an ideal relationship with Klinsmann, dating back to his days with Bayern Munich. Most famously, Donovan was left off the 2014 World Cup roster before making one final USMNT appearance last October.
What do you think of Donovan's comments? Agree or disagree?
Share your thoughts below.