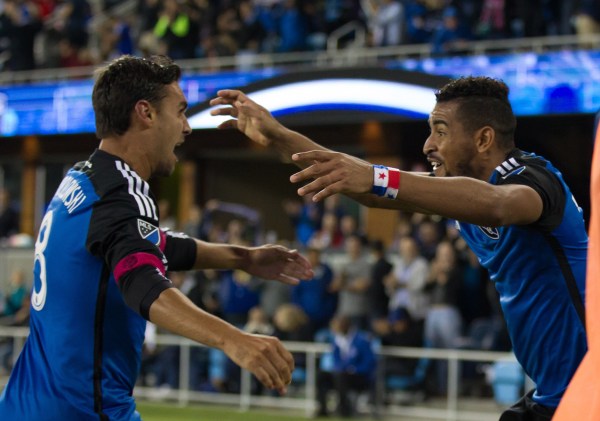 Photo by Kelley L Cox/USA TODAY Sports
By SBI SOCCER
The San Jose Earthquakes live to fight another day.
The Earthquakes faced a theoretical do-or-die scenario against Sporting KC Friday and pulled out an important 1-0 victory to keep their playoff hopes alive.
Anibal Godoy gave the Earthquakes the decisive win, as he slotted in a simple opportunity two minutes into the second half. It's the Panamanian's second goal since joining San Jose in August.
The win helps the Earthquakes jump into the sixth and final playoff position in the Western Conference, just one point behind Sporting KC, which sits in fourth. The Earthquakes are now level with the Seattle Sounders and Portland Timbers, who each have 47 points and have yet to play this weekend.
While San Jose came out of the gates on the front foot at Avaya Stadium, it was goalkeeper David Bingham who was called into action in just the eighth minute. Dom Dwyer put a shot on frame, but it was sent close enough to the Earthquakes goalkeeper, and the ball was parried out of danger.
While Sporting KC had the best opportunity to score in the first half, in just the 47th minute, Godoy put the home side ahead, and the Earthquakes would ride that goal to final whistle.
Godoy connected with Chris Wondolowski, who received an inch-perfect cross from Shea Salinas on the left wing. The Panamanian was sitting at the doorstep, and when the U.S. international's pass found his feet, he made no mistake.
Forward Quincy Amerikwa almost doubled the hosts advantage in the 55th minute, but goalkeeper Tim Melia stood tall and prevented the chance after an amazing run into the penalty area from the 27-year-old striker.
The Earthquakes will end their 2015 campaign against FC Dallas next Sunday, while Sporting KC will meet the Colorado Rapids on Wednesday.