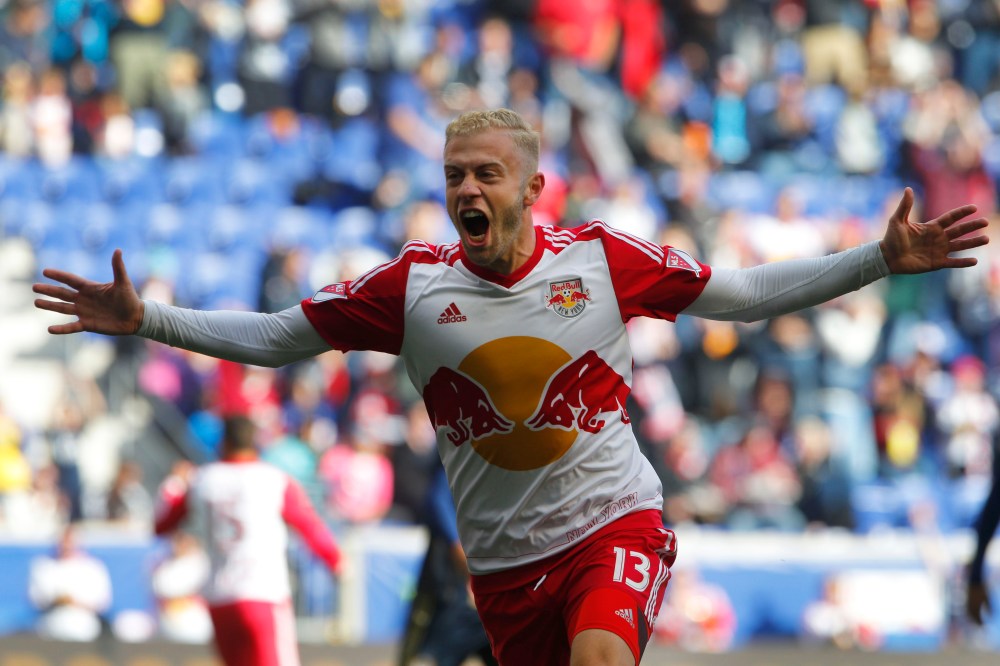 History was made at Red Bull Arena Sunday, and not the kind many were expecting.
The New York Red Bulls easily defeating the Philadelphia Union, 4-1, to claim the Eastern Conference crown came as no shock, but Mike Grella's seven-second goal was, as his quick left-footed finish past goalkeeper Andre Blake set the record for the league's fastest goal ever scored in a competitive game.
The goal spurred the Red Bulls on to score three more on the afternoon, and with the result, the Eastern Conference winners regain the Supporters' Shield lead even though they share 57 points with FC Dallas.
Cristian Maidana was the Union player who made the fatal error, sending a poor pass into his own half, where Grella took control and ran into the box before putting an effort on frame. A deflection helped the ball fly by Blake.
Three minutes later, Bradley Wright-Phillips doubled the hosts advantage. Damien Perrinelle headed a Sacha Kljestan corner kick toward the direction of Wright-Phillips, who coolly volleyed in the opportunity on the doorstep.
While Grella's record-setting goal was not the prettiest, he made up for it by blasting in his second of the day from around the same area in the 17th minute. Gella was fed a pass by Dax McCarty, and the record-breaker beat a man with a fake before sending a low, left-footed effort past Blake for the team's third goal of the day.
More history was made towards the end of the first half, as Kemar Lawrence scored his first-ever MLS goal after McCarty picked him out with a inch-perfect cross across the six-yard box at the end of the 44th minute.
Sebastien Le Toux would eventually find a response for the visiting Union, but his tally in the 55th minute was too little, too late, and the Red Bulls held on for the important win.
The Red Bulls will end their 2015 campaign and look to secure the Supporters' Shield next Sunday against the Chicago Fire, while the Union will play Orlando City SC the same day.