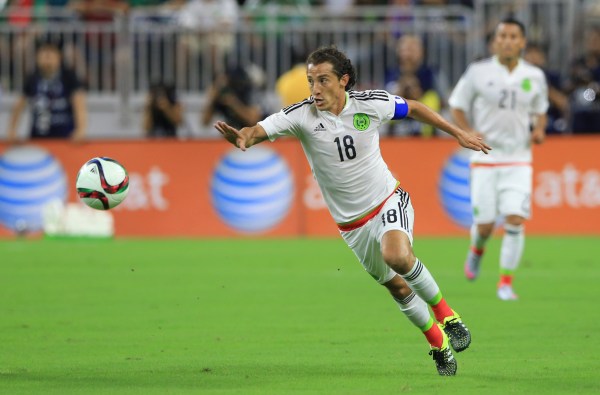 photo by Kevin Jairaj/USA Today Sports
By FRANCO PANIZO
Andres Guardado and Rafa Marquez have made the cut.
Mexico has unveiled its final 23-man roster for Saturday's CONCACAF Cup showdown with the U.S. Men's National Team, and both Guardado and Marquez are on it. The two veterans' availability for the much-anticipated match had been in question in recent days because of injuries, but interim head coach Ricardo Ferretti has opted to include Guardado and Marquez.
Ferretti had trimmed his preliminary El Tri squad from 35 players to 25 last Friday. He did not make a decision as to who his final two cuts were so as to wait and see if Guardado and Marquez were healthy.
With them included, Miguel Herrera of Pachuca and Leon attacker Carlos Pena were the final players left off the roster.
Here is the full Mexico squad:
Goalkeepers (3): Moises Munoz (Club America/Mexico); Alfredo Talavera (Toluca/Mexico); Jonathan Orozco (Monterrey/Mexico)
Defenders (8): Paul Aguilar (Club America/Mexico); Diego Reyes (Real Sociedad/Spain); Rafael Marquez (Hellas Verona/Italy); Hector Moreno (PSV Eindhoven/Netherlands); Miguel Layun (Porto/Portugal); Hector Herrera (Porto, Portugal); Arturo Rivas (Tigres/Mexico); Jorge Torres Nilo (Tigres/Mexico)
Midfielders (5): Israel Jimenez (Tigres/Mexico); Andres Guardado (PSV Eindhoven; Netherlands); Jose Juan Vazquez (Leon/Mexico); Javier Aquino (Tigres/Mexico); Jonathan Dos Santos (Villarreal/ Spain)
Forwards (7): Oribe Peralta (Club America/Mexico); Raul Jimenez (Benfica/Portugal); Carlos Vela (Real Sociedad/Spain); Carlos Esquivel (Toluca/Mexico); Jesus Corona (Porto/Portugal); Javier Hernandez (Bayer Leverkusen/Germany); Giovani Dos Santos (LA Galaxy/United States)
—–
What do you think about Mexico's finalized roster? Which players most worry you? Think the USMNT can and will beat this team?
Share your thoughts below.