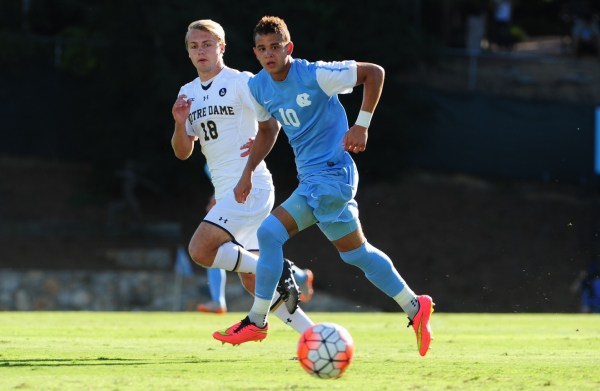 Photo by UNC Athletic Communications/Jeffrey A. Camarati
By AARON CRANFORD
SBI No. 2 North Carolina continues to roll through the 2015 season, this time securing another win against a ranked foe.
No. 15 UNC-Wilmington traveled to Chapel Hill Tuesday, but the Seahawks didn't leave happy, suffering a 3-0 defeat to the Tar Heels.
Zach Wright scored his third and fourth goals of the year to lead North Carolina, while Alan Winn added his fourth of the season to put the nail in the coffin. Tucker Hume assisted twice on the evening, helping the Tar Heels remain one of only four undefeated teams across the nation.
Meanwhile, No. 1 Creighton had a slight scare at home against Drake Tuesday but eventually found a game-winner late to keep its perfect record intact.
"I think the longer the season goes and you stay undefeated and stay high in the rankings, the more motivation there is for other teams to knock you off your pedestal," Bluejays head coach Elmar Bolowich told SBI.
Thanks to midfielder Mueng Sunday, the Bulldogs took the lead just before the halftime break, and with time ticking away at Morrison Stadium, the team's first blemish looked more and more likely.
However, Timo Pitter collected his own rebound before toe-poking in the equalizing goal during the 79th minute. Rickey Lopez-Espin tallied the game-winner six minutes later to improve the team's record to a now highly impressive 11-0.
In the week's only other SBI Top 25 showdown, No. 5 Wake Forest continued to excel, defeating No. 23 South Carolina, 2-0. Tane Gent and Jacori Hayes tallied the goals, while Jack Harrison assisted on both goals and Michael Gamble only on the second.
Here is a rundown of the results from college soccer's top teams during the week:
MONDAY
(7) Virginia 3, Portland 2. (RECAP)
(11) Denver 2, Gonzaga 1. (RECAP)
Duke 3, (22) Hofstra 2. (RECAP)
TUESDAY
(1) Creighton 2, Drake 1. (RECAP)
(2) North Carolina 3, (15) UNC Wilmington 0. (RECAP)
(5) Wake Forest 2, (23) South Carolina 0. (RECAP)
Charlotte 0, (6) Clemson 1. (RECAP)
(10) Akron 2, Santa Clara 0. (RECAP)
Harvard 1, (20) New Hampshire 0. (RECAP)
Syracuse 2, Albany 1. (RECAP)
Brown 0, Boston College 1. (RECAP)
WEDNESDAY
Presbyterian 0, (8) Coastal Carolina 2. (RECAP)
(8) Notre Dame 1, Michigan 1. (RECAP)
(24) Elon 2, Northeastern 1. (RECAP)
UCF 3, Temple 1. (RECAP)
Tulsa 1, (25) South Florida 2. (RECAP)
THURSDAY
(18) UCSB 2, UC Riverside 0. (RECAP)