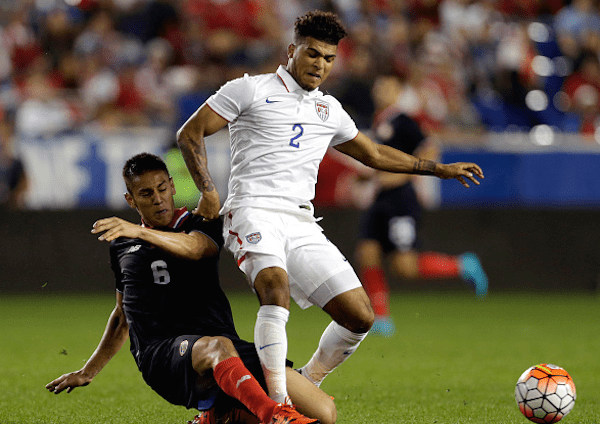 By RYAN TOLMICH
HARRISON, N.J. – The U.S. Men's National Team's main focus since its World Cup exit has been about testing out some of the pool's younger players.
Now, it's all about that group seizing the opportunity and running with it.
U.S. head coach Jurgen Klinsmann gave several youngsters a look in Tuesday's 1-0 defeat against Costa Rica at Red Bull Arena, but once again the inexperienced Americans were unable to fully seize the moment.
Still, it was a needed move as Saturday's defeat to Mexico made one thing quite apparent: the U.S. is still relying too heavily on stars of yesteryear like Clint Dempsey and DaMarcus Beasley.
"It's going to get better. It's naturally going to get better as the games come and they get tougher," Jozy Altidore said. "I know, when you think about it, as they get tougher you'd think maybe it doesn't get easier, but it will get easier.
"Guys get a little more comfortable in their role. Somewhere along the way there's going to be some fresh blood that comes in and helps us."
Tuesday's clash with Costa Rica provided yet another opportunity for youngsters to assert themselves. Gyasi Zardes, perhaps the U.S.'s best newcomer in 2015, got a look as a striker, while DeAndre Yedlin continued to feature in the wide midfield position. Bobby Wood, a goal-scorer against Mexico, got another half up top on the heels of a hot summer.
But yet the team's younger core has yet to hit its stride. The previous generation – the Dempseys, Altidores, and Michael Bradleys – continues to lead the way. Meanwhile, the Under-23 and Under-20 stars are still looking to find their feet before making the leap to the senior team.
Klinsmann believes the development of those promising prospects will come with some more time, though.
"The weight on their shoulders is just different and that's why we need to be patient with DeAndre Yedlin. We need to be patient with Gyasi and Bobby Wood," Klinsmann said. "We cannot expect that suddenly these youngsters can carry the weight in bigger games. That process for us is just normal.
"We wish there would be more of these guys so we could bring them through, but sometimes there's a step backwards and you go two forwards. We did two backwards, and now we better hurry up and take a couple of steps forward."
One player that Klinsmann believes has begun to make the leap is Wood, whose goal against Mexico, summer performances vs. a pair of traditional European powerhouses, and club form has propelled him into the conversation as a potential starter.
At this time last year, Wood was largely seen as unpolished and unconfident. Now, with goals against the Netherlands, Germany and Mexico on his resume, Wood is getting closer and closer to being a legitimate option at the forward position.
Still, Klinsmann needs to see more of the forward and how he stacks up against veterans like Altidore, Dempsey, and Aron Johannsson.
"Six months ago, you would have probably said, 'Why is he always helping that kid?'" Klinsmann said of Wood. "Then suddenly came two goals in June and now he starts now picking it up again. All these younger players, they go through up and downs. Obviously the team right now knows this well. We just have to help them and that's what we're doing."
Altidore wants players like Wood to break in, and also hopes to see an increase in the team's attacking talent.
Citing Lee Nguyen as an example, Altidore said the U.S. needs to add players that are creative, that can pick out key passes, and create havoc for opposing defenses. Altidore believes those players are there, and it's just a matter of identifying them and getting them up to speed with the team.
Luckily for the U.S., there is time. World Cup qualifying begins next month, but the 2018 tournament in Russia is still almost three years away. That should give the youth ample opportunity to develop and grow into more regular roles.
"Every cycle is a rebirth. You have to shake things up," veteran goalkeeper Tim Howard said. "You have to try new players. Other players get older and some of your best players who are top dogs today are going to be old as dirt in 2018 and are not going to be in form. There's that balance of getting that result today versus trying to bleed new guys in. "
Added Altidore: "At the end of the day, there are a lot of experienced guys that have played at high levels. I think we need the young guys to step up and add that injection to the team. We need them to step up and everybody needs to hold their own out there."