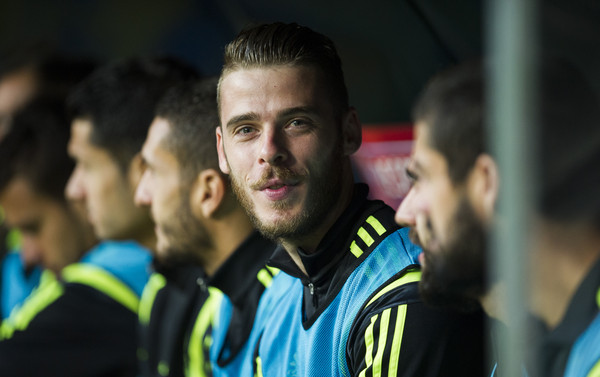 By SBI SOCCER
David De Gea may have signed a new contract with Manchester United, but one of the more important details of that contract remains a mystery.
The Spanish goalkeeper saw a big-money move to Real Madrid fail to materialize this summer before signing a new deal with the Premier League club. One detail that has yet to be revealed is De Gea's release clause, and the player deflected questions about its existence Tuesday.
"You should ask (my agent Jorge Mendes) that question," he said. "He's the one who pays attention to those details."
Here are some more news and notes to kick off your Tuesday morning:
AGUERO HOPES TO RETURN FOR WORLD CUP QUALIFYING
Sergio Aguero is hoping to return from injury ahead of schedule in an effort to help his national team.
The Argentinian striker has targeted his country's November 13 World Cup qualifier with Brazil for his return from injury. Aguero suffered a grade-two hamstring strain in last week's clash with Ecuador, and is projected to be out for somewhere between four weeks to two months.
"I hope I can be there against Brazil, but the injury must be let recover a bit so there is no relapse," Aguero said at a news conference. "This is an injury you have to recover bit by bit, but of course I want to be back quickly."
Argentina take on Paraguay in a qualifier Wednesday, while Aguero is also set to miss up to seven Manchester City fixtures.
BALE'S AGENT SAYS THERE IS NO ANIMOSITY WITH RONALDO
Gareth Bale and Cristiano Ronaldo may not be the best of friends, but the Wales star's agent says there is no animosity between the two.
Jonathan Barnett, Bale's agent, insists that there are no issues in Bale and Ronaldo's relationship, despite rumors of potential issues since Bale joined Real Madrid in 2013.
"They don't go out eating every night together, but it's fine," Barnett said. "There's no hatred there. Gareth is a quiet guy. They're complete opposites. But I think Gareth can learn a little bit from Ronaldo as well, interacting maybe a little bit. But he wants his own life and he lives it."
"Gareth is a great footballer, he doesn't want anything more," he added. "He has some very good endorsements, but his whole life is to be the best footballer in the world.  I don't think he wants to be the best model in the world or the best underwear seller. That's not him."
QUICK KICKS
Alexis Sanchez is set to be offered a new contract by Arsenal that will make the winger the club's highest-paid player. (REPORT)
Arsenal forward Danny Welbeck hopes to return to action in the new year after undergoing knee surgery in September. (REPORT)
Lithuania coach Igoris Pankratjevas resigned immediately following his team's 3-0 loss to England on Monday. (REPORT)
Croatia's automatic berth to Euro 2016 is in danger after the nation was docked a point for the display of a swastika on the team's field. (REPORT)
—
What do you expect De Gea's release clause to be? Think Aguero can return in time? What do you think of the rumored Bale-Ronaldo issues?
Share your thoughts below.