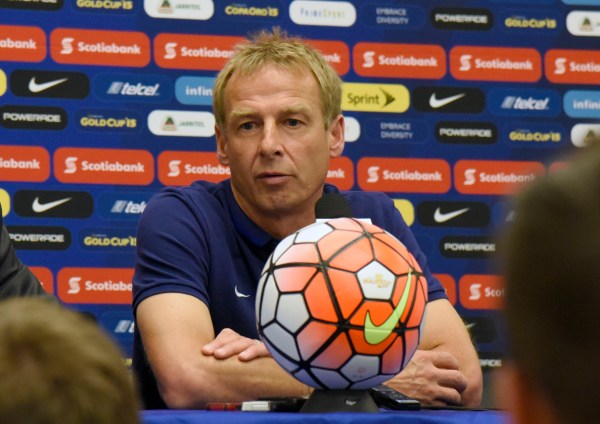 Photo by Dale Zanine/USA Today Sports
By AARON CRANFORD
With a handful of players not fully fit and others not playing at their peak, U.S. Men's National Team head coach had to make some important decisions.
He did so, leaving off notable defenders in Omar Gonzalez and John Brooks, midfielder Mix Diskerud and forward Aron Johannsson.
Klinsmann and U.S. Soccer announced the 23-man roster the USMNT will use when they meet Mexico on Oct. 10 at the Rose Bowl in Pasadena, Calif. Saturday. While World Cup veterans, like DaMarcus Beasley, Kyle Beckerman and Graham Zusi, found their names on the roster, some key contributors as of late had to be left off due to fitness and recent injuries.
"Obviously it's a specific moment now, and in that moment John Brooks is not 100 percent," Klinsmann said. "Aron Johannsson is not 100 percent. Greg Garza actually had surgery a few weeks ago. There are always players that you'd love to have be a part of games like this that are just not there. It's unfortunate for them, but it is reality."
However, while some players were not called in to play for the CONCACAF Cup because of injury, others were just not included because their peers were performing better. Gonzalez was one of those players, while a player like Club America's Ventura Alvarado was included, even though the latter hasn't started for his club in its last four games.
"Every time you have to cut down a roster like now from 35 to 23, there are some players that do not make it and it looks like they are not good enough, which is not the case," Klinsmann said. "The competition is very, very tight. Not having Omar Gonzalez or Mix Diskerud on this roster, for example, is not because they are not good enough, it's just because you see another player that is better in their position right now in this specific moment.
"Those are always tough decisions that a coach has to make, and we believe everyone in that roster will get the job done and the other ones are there to support. They also need to be ready still because they are on standby in case someone goes down in training and they get the call."
Jonathan Spector and Michael Orozco are the defenders Klinsmann chose to fill in for the absences of Brooks and Gonzalez.
With a spot in the 2017 Confederations Cup on the line, Klinsmann hopes the World Cup veterans, the players who have been called into the USMNT regularly throughout their careers, will be the ones to step up and help lead the Americans to a victory.
"We have players on our roster that have done so much for the National Team program, but that are also not getting any younger," he said. "All these guys in their thirties, they need to realize 'you know what, I'm may not be getting these opportunities any more. This is it. We better take that trophy.'
"However it looks like, we've got to go and get this thing. This is really about chemistry and getting the group together and making it a really special atmosphere the whole week leading into the Rose Bowl moment."