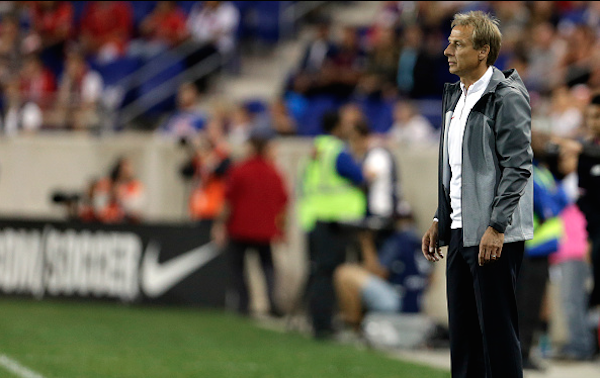 By RYAN TOLMICH
HARRISON, N.J. — Jurgen Klinsmann, like many, is interested in seeing how Borussia Monchengladbach handle Fabian Johnson in the coming days.
Johnson was dismissed from the U.S. Men's National Team on Monday after asking to be removed from Saturday's clash with Mexico despite Klinsmann stating that the fullback had no apparent injury. Johnson's club then revealed Tuesday that Johnson was undergoing treatment for a thigh injury upon his return to Germany.
"I understand the club. They want to look their way," Klinsmann said of Monchengladbach. "If you want to test it out, then see if he's playing on the weekend and you'll have your answer."
Johnson's replacement Tuesday was Brad Evans, who came up with a pair of timely clearances in front of goal. Evans revealed he and the rest of the USMNT were informed of Johnson's dismissal before the news broke Monday, and added that he isn't in a position to comment on the potential injury issues faced by his teammates because all players are different.
"I can't say if how I feel on the field is different than somebody else, and a guy who was experiencing injury before maybe thought it was time for another injury," said Evans. "It is what it is. I'll leave it at that.
"Distractions outside of the team, whether it's (Landon Donovan's) comments, whether it's outside media presence, whatever it is, my focus is on the field. At the end of the day, that doesn't concern me."
Here are some more USMNT news and notes:
NGUYEN HAPPY WITH "TASTE" OF USMNT ACTION
Lee Nguyen's time on the field may have been brief on Tuesday, but the USMNT midfielder was happy to get some action on the international level.
The 29-year-old midfielder entered Tuesday's meeting with Costa Rica in the 72nd minute, making his first USMNT appearance since February. While he may not have gotten an extended look, Nguyen was glad to rejoin the national team to earn his sixth cap.
"I'm just glad to be here to support the team in any way possible," Nguyen said. "Whether it's getting minutes or not getting minutes, I'm here to support my teammates.
"Unfortunately we didn't get the result tonight, but it was a good little taste."
Nguyen's taste was enough to impress teammate Jozy Altidore, who insisted that the USMNT needs more players with the ability and guile of the New England Revolution star.
"Lee, when he came in, you saw in between the lines he's clever," Altidore said. "He gets on the half turn, and there the strikers can run off of them. We need more of this. We acknowledged that and it's something we have to improve on."
EVANS LOOKS TO GET ON SAME PAGE AS YEDLIN
Teammates at the Seattle Sounders from 2013-14, DeAndre Yedlin and Brad Evans developed a bit of chemistry as a fullback-midfielder combo. Now, with their roles reversed, that chemistry needs a bit of refining.
Formerly a wide midfielder, Evans has been played mainly in defense this year in Seattle and Tuesday's start for the USMNT came at the fullback position. Yedlin, meanwhile, has been pushed up the field by Klinsmann due to his speed after featuring mainly as a right back on the club level.
Having flip-flopped roles, Evans believes that he and Yedlin have some work to do in terms of getting on the same page with one another on the field.
"With his speed, a couple times (I'll pass) to his feet, but the rest of the time I want the ball in behind and let him run," Evans said. "We just weren't on the same page for whatever reason. He saw something that I didn't see or he felt something. If I had the ball at my feet and DeAndre comes to me, I'm expecting one of the forwards to book it into the corner. One or two times it happened.
"For me, it's about the familiarity playing with DeAndre now," Evans added. "We've kind of switched roles. Usually, I'm playing midfield with him, in my experience, playing right back. Now we're switched, so it's little things that we can do better, and you can only get that through experience with each other."
KLINSMANN HOPES TO PUSH TOWARDS 'IDEAL' STARTING XI
The fielding of an entirely first-choice starting XI is a rare occurrence in international soccer, but Jurgen Klinsmann is hoping to move closer to the feat in the coming months.
Following months of experimenting and several setback losses, Klinsmann is hoping to assemble what he would call his first-choice starting lineup. Still, Klinsmann understands that the idea of calling in every player he wants is not entirely possible due to several factors.
"There is always an ideal starting lineup, there's no doubt about it, but what is ideal?" Klinsmann asked. "We juggle injuries. We juggle schedule. We juggle so many things that are difficult to have where every time we have the same 11 that is getting starts. If they don't get starting spots in their club teams, then you see right away in training that they're behind. You have to reevaluate every time you go into camp.
"There's a whole reevaluation process in place and coaches have an ideal lineup, absolutely, but unfortunately it's never like that. We can't say we'll go with the same 11. I wish that would be the case."