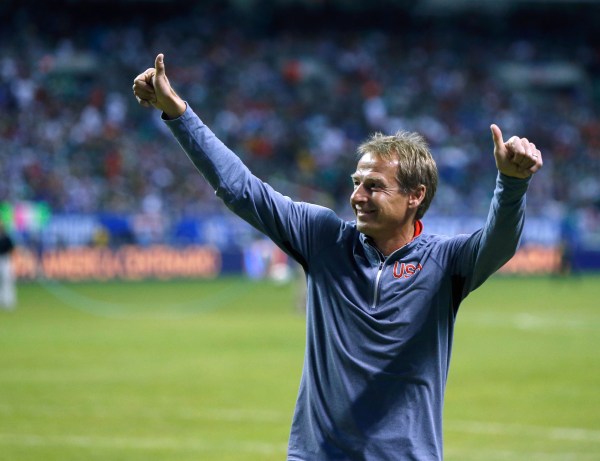 photo by Erich Schlegel/USA Today Sports
By FRANCO PANIZO
If there is one thing to inspire confidence in the U.S. Men's National Team chances against Mexico on Saturday, it is Jurgen Klinsmann's track record against the North American nation.
Klinsmann enters Saturday's highly-anticipated CONCACAF Cup having never lost to Mexico. Not as a head coach. Not as a player. Not ever.
Klinsmann's all-time record against El Tri going into the weekend's brawl at Rose Bowl in Pasadena, California, is 5-0-5. The majority of the victories (three) have come as U.S. coach, but Klinsmann's undefeated run also includes a narrow World Cup victory as a player in which he sparked a late rally for Germany. He also has a win as Germany head coach.
Some may just chalk that history up to pure coincidence, but others might see it as Klinsmann knowing what it takes when facing Mexico, especially when you consider some of the results he has picked up while in charge of the U.S.
Klinsmann, who as U.S. coach is 3-0-3 in six meetings against Mexico, picked up the famous first victory for the Americans at Estadio Azteca. It may have been just a friendly, but the 1-0 win in Mexico City on Aug. 15, 2012 ended a long run of futility for the U.S.
The next meeting came in that same soccer cathedral on March 26, 2013, though this time there was more at stake. The two regional powerhouses were playing their third match of the final round of CONCACAF World Cup qualifying, and the U.S. defended valiantly en route to recording a 0-0 draw.
Nearly six months later, Klinsmann got his first taste of dos a cero. The U.S. beat Mexico at Crew Stadium on Sept. 10, which helped the Americans punch their ticket that night to the 2014 World Cup in Brazil.
The other three games were all friendlies. First was the 1-1 draw in Klinsmann's debut match in charge of U.S. back on Aug. 10, 2011, in Philadelphia, Pennsylvania, and more recently was another 2-0 triumph in San Antonio, Texas, this past March 15. Sandwiched in between those two meetings was a 2-2 draw on April 2, 2014 in Phoenix, Arizona, that served as one of the final tuneups before the World Cup in Brazil.
With Germany, his only meeting with Mexico as a manager came on June 29 in the third-place game of the 2005 Confederations Cup. The Germans prevailed that day, 4-3, but it took them until extra time to oust Mexico.
As a player for the European nation, Klinsmann was 1-0-2. His most notable outing came in the Round of 16 of the 1998 World Cup in France, as he helped save Germany from elimination by scoring a 75th-minute equalizer that pushed the team to a 2-1 come-from-behind win on June 29 of that year.
Klinsmann did not get on the scoresheet in either of the other two games he played vs. Mexico, and they both ended in draws. He started and played 71 minutes in a scoreless draw at Estadio Azteca on Dec. 22, 1993, and had a 45-minute stint off the bench in a 1-1 draw in Germany on Oct. 14, 1992.
Klinsmann's success vs. Mexico obviously speaks for itself, but he faces a major challenge on Saturday as he leads the U.S. into a battle for bragging rights and a 2017 Confederations Cup berth in front of an expected pro-El Tri crowd of 90,000.
The match is undoubtedly going be intense, and there will be a lot stake. Klinsmann's unbeaten record included.