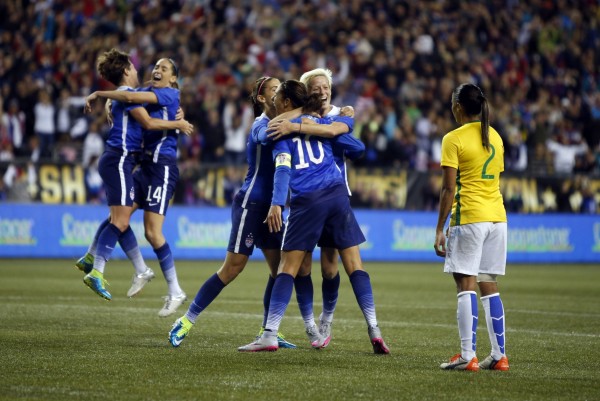 The latest round of the U.S. Women's National Team's Victory Tour certainly proved to be the most nervy.
After conceding inside three minutes, the USWNT came from behind via a late Carli Lloyd goal to earn a 1-1 draw Wednesday against Brazil at CenturyLink Field. With the draw, the U.S. extends its home unbeaten run to 101 games, with the last home loss coming in Nov. 2004.
Lloyd's leveler came in the 85th minute to save the U.S. from defeat. Dashing down the right sideline, Meghan Klingenberg beat a pair of Brazil defenders before playing a low cross into the center of the box. Lloyd smashed the ensuing shot off the crossbar and over the line to earn the U.S. a draw. The goal was Lloyd's 17th of 2015.
The equalizing goal canceled out a third-minute opener from Brazil's Monica, who headed home an Andressinha corner kick for the early finish.
Thursday's game would prove to be the last for USWNT midfielder Shannon Boxx, who was honored pregame and wore the captain's armband in her final game before retirement. In addition to claiming this summer's World Cup, Boxx retires as a three-time Olympic champions.
While one U.S. star called it an end to her career, one saw it begin, as defender Jaelene Hinkle earned her first cap with the USWNT.
Following the victory, the U.S. returns to action Sunday in a rematch with Brazil at Orlando's Citrus Bowl.