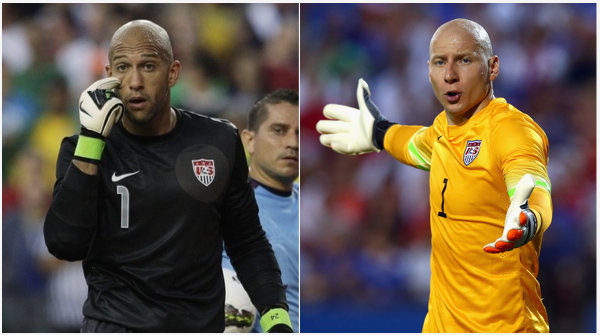 By RYAN TOLMICH
HARRISON, N.J. —On Saturday, it was Brad Guzan. On Tuesday, it was Tim Howard.
Going forward, it will probably be a combination of both.
That was the message put forth by Jurgen Klinsmann in the aftermath of the U.S. Men's National Team's 1-0 defeat to Costa Rica on Tueday night, a friendly match that represented Howard's first start since his now-famous performance against Belgium in last year's World Cup.
Howard stepped away from the national team after that tournament, paving the way for Guzan's emergence as the No.1. Now back in the fold, Howard is set to split time with Guzan as the U.S. prepares for World Cup qualifying.
"(Howard) absolutely deserved to start tonight," U.S. head coach Klinsmann said. "He took his break and he came back and put himself in a waiting spot. Through the whole 14 or 15 months, Brad Guzan did an excellent job. We have two exceptional international caliber goalkeepers. We need both of them. We need both of them on board.
"That's what I told them and going forward they will probably rotate. There will come a decision if we play Copa America or Gold Cup or whatever comes up where one starts over the other.

"For us coaches, it's extremely important to have both of them. I cannot afford to lose one of them because he's not getting his games or he gets frustrated. They are two outstanding characters. They are givers, both of them. They respect each other 1,000 percent and they help each other. Whoever is in a backup role pushes the other one and so on. Our job is to keep both with us because, after that, there is a hole."
For now at least, that situation is fine for Howard, a player that has represented the U.S. at three World Cups. Despite being in good form with Everton, Howard understands that he is competing with a fellow top-flight goalkeeper, one that will push him to get better every day.
Now, it's about piecing together how it will all work. Who starts November's World Cup qualifiers? Can either emerge as the true No. 1 then?
Those questions are left for Klinsmann, and, for the time being, Howard is content with leaving them unanswered.
"I'd like to play every game, Brad would like to play every game, but the reality is that I think we have two good goalkeepers," Howard said. "I would like to get my fair shot. I think he will give myself and Brad a fair shot and I think as long as we're playing week-in, week-out at Everton and (Aston) Villa, I think you talk about balance."
With two quality goalkeepers at his disposal, Klinsmann is well aware that he has a wealth of riches. Many teams would be more than happy with just one of Guzan or Howard leading the charge on the international level.
Yet, Klinsmann has both, and the difficult decision of deciding who fits where and when.
"I think both goalkeepers are so experienced," Klinsmann said. "They've both been so long with the national team. They are used to adjusting to the situation and they know it's a tough one now for the coach. Every time a game comes up, I will talk with them. I will explain my thoughts. They are very, very even and you guys know that. That's why it is important to go along with both into the future and for them to stay positive."
Added Howard: "I think we'll be fine. It's no problem. Brad and I, we compete well. We get a long well. I'm there for him, he's there for me. Nothing changes."