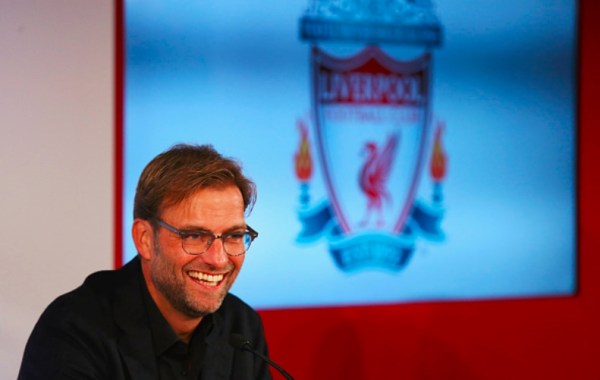 By SBI SOCCER
Liverpool has found its man, announcing Jurgen Klopp as its new head coach Friday.
Klopp, 48, will be accompanied by Zeljko Buvac and Peter Krawietz, who were members of his staff at Borussia Dortmund and have decided to join him and the coaching staff in England.
"I am very excited by the challenge we face and eager to start the job and begin implementing our ideas and ways of working with this team," Klopp said after his arrival to Anfield. "This is a talented group of players and there is still much to compete for this season. Winning is important but so is how you win and how you play the game. I believe in a playing philosophy that is very emotional, very fast and very strong. My teams must play at full throttle and take it to the limit every single game.
"It is important to have a playing philosophy that reflects your own mentality, reflects the club and gives you a clear direction to follow. Tactical of course, but tactical with a big heart."
Klopp claimed two Bundesliga titles and a DFB-Pokal trophy in seven years with the German club, and he was awarded German Football Manager of the Year honors twice.
Liverpool currently sits 10th on the English Premier League Table with 12 points after eight games played.
Here are some more news and notes:
SEPP BLATTER LAUNCHES APPEAL AGAINST 90-DAY BAN
Sepp Blatter may have been suspended by FIFA Thursday, but he isn't going to step down without a fight.
Blatter, 79, announced Friday his decision to appeal the 90-day ban enforced by FIFA's Ethics Committee. He is currently being investigated by The Office of the Attorney General of Switzerland on "suspicion of criminal mismanagement" and "misappropriation."
"He has appealed already to FIFA's appeal committee," Blatter's friend and adviser Klaus Stohlker said. "He is defending his position and he is sure that he will be found not guilty."
BARCELONA EXPRESSES SUPPORT OF MESSI AMID TAX CASE
Lionel Messi is under the spotlight, but his club is standing behind him.
Messi, and his father, Jorge, are set to stand trial for $4.5 million in unpaid taxes from 2007-2009, but Barcelona is standing behind its player, offering he and his family its "full support and assistance in the legal, fiscal and administrative aspects of these proceedings."
"The Club expresses its surprise at the difference in criteria between the Public Prosecutors, which on September 25 decided not to accuse Lionel Messi of tax fraud, and the verdict expressed today by the State Attorney, which states the complete opposite," a statement from the club reads.
Messi faces a 22-month sentence, but he denies any wrongdoing.
QUICK KICKS:
Sunderland will begin conversations with Sam Allardyce regarding the team's head coaching position. (REPORT)
Sergio Aguero was stretched off in tears after suffering a hamstring injury against Ecuador in Argentina's first World Cup qualifier Thursday. (REPORT)
Juventus confirms Paul Pogba is expected to play against Inter Milan on Oct. 18. (REPORT)