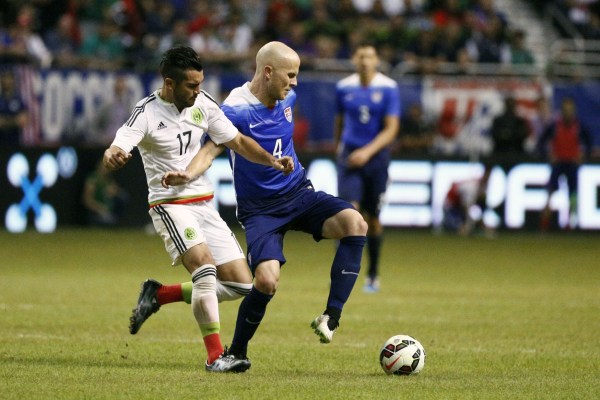 Photo by Soobum Im/USA TODAY Sports
By RYAN TOLMICH
The U.S. Men's National Team has taken on Mexico exactly 64 times in the team's history, but Saturday's clash will be unlike any that came before it.
Facing off in the inaugural CONCACAF Cup, the USMNT collides with Mexico Saturday with a berth in the 2017 Confederations Cup up for grabs. The two teams face off in a one-off final, one that could set the tone ahead of November's World Cup qualifying run.
CONCACAF announced Monday that the event was sold out, as 90,000 spectators will be on hand in Pasadena. The federation took precautions in working to create a split fan group, but it's not unlikely that the atmosphere shifts into the favor of Mexico once again.
Prior to Saturday's meeting, the Rose Bowl previously played host to the 2011 Gold Cup final, a 4-2 El Tri victory in front of a largely pro-Mexico crowd. Yet, Bedoya says that he and his teammates are more than willing to take things head on, whether Saturday's game was at the Rose Bowl, the Azteca or an empty lot somewhere in between.
"One can try and control ticket distribution and all that," Bedoya said, "but in the end we know there's a lot of Mexicans and Hispanics in California and that will always have an impact on the crowd that attends. We also know this is a dream for CONCACAF, to have this game again in front of 90,000 people at the Rose Bowl.
"In this country a lot of us are from different backgrounds. Here we have a lot of Hispanics and there's lots of Mexicans in all of the U.S., especially here in Southern California. I was part of that game in the Rose Bowl in 2011 and some other players as well, and we know how that game went. It should be better this time around, soccer has grown here, but there will probably be more Mexican fans than American fans. For us, that's not a big deal."
Bedoya's midfield partner, Michael Bradley, has also seen his fair share of Mexico games. Out of his 15 international goals, three have come against the USMNT's southern rivals.
For Bradley, the idea of playing in front of a divided crowd is part of the allure of the rivalry. For one, it speaks to the passion of the two sides, while also revealing a bit about the cultures of all involved.
"Certainly when you talk about the U.S. in a bigger way," Bradley added, "one of the beautiful things about our country is the ability for people from all over the world to come here and live and work and, in some ways, make new lives for themselves. That's something that I'm personally very proud of. When it means, in a footballing sense, that every now and then we play with a few less fans. We deal with it."
The thousands of screaming fans are not the only difficulty facing the U.S., as the team must also contend with several missteps of their own doing. Games with stakes like Saturday's obviously yield pressure, something Bradley is well aware of.
The U.S. cracked under that pressure this summer, falling to an underdog Jamaica team to set up the current situation. The U.S. must now avoid a repeat performance Saturday if they are to call 2015 any sort of success.
Saturday's meeting was made possible by the USMNT's summer struggles that yielded an all too disappointing fourth-place finish at the Gold Cup. That experience, Bedoya says, is one that will prove vital heading into the CONCACAF Cup, even if it's for all the wrong reasons.
"I don't know if revenge is the right word," Bedoya said, "but I can speak for myself and watching Mexico win that game in the way that they did and watching them celebrate was not a good feeling. I don't want to repeat that."
"Everything that has happened in the months leading up to it, what you've achieved, what's been written, what's been said, it means nothing," Bradley added. "When that whistle blows it's about 90 minutes, maybe 120, and which team is able to make more plays and which team is going to deal with the pressure the best."