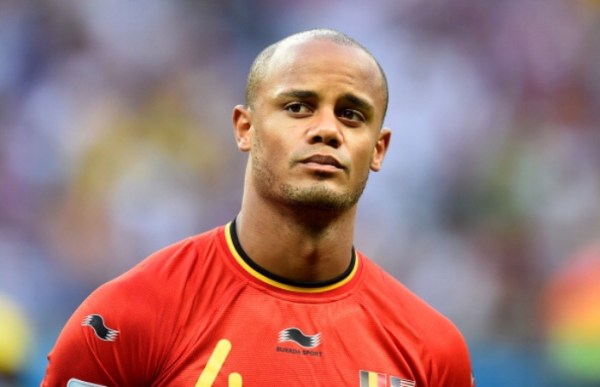 By SBI SOCCER
Vincent Kompany may have missed Manchester City's previous five games, but Belgium may use the star centerback anyway.
Kompany has been suffering from a calf injury, so Manuel Pellegrini has decided to rest his centerback and hoped that Belgium would do the same. Red Devils manager Marc Wilmots may opt to use him, though, in an important Euro 2016 qualification match Tuesday against Israel.
"I think he's good right now," Wilmots said. "We will decide together if he can play, but I think it will be alright. I don't see any problem if he feels OK. There's been no contact with Manchester City. They know anyway all about the team here and what I do with Belgium. I select the players, and from the beginning this player said the second game will be alright.
"He's been working with the rest of the squad since Friday, and that's good for Manchester City but good for Belgium."
Kompany did not feature in Belgium's 4-1 win against Andorra Saturday. With Wales only two points behind in Group B, a Belgian victory Tuesday is seen as necessary in order to claim the group's top spot.
Here are some more news and notes:
CARLO ANCELOTTI CONSIDERS EPL MOVE
Carlo Ancelotti doesn't want to call it quits until he makes a move back to the English Preimer League.
The former Paris Saint-Germain and Real Madrid boss, as well as the former head coach for Chelsea says he may make a coaching comeback starting in 2016, with his his destination hopefully being England once again.
"I dream of an experience in the (English) Premier League, that's the place to work in football with the right pressure," Ancelotti told Corriere dello Sport in an interview. "First stop, I want to coach there, but I must also think about the time when I will say enough. In the days of Reggiana, I told myself that after five years I would say enough. That was 25 years ago and I'm still going. For now, I can say that my rest will last until the end of the year. From January onwards, I'll be ready to get back to work."
SAM ALLARDYCE SAYS HE SHOULD BE THE NEXT ENGLAND NATIONAL TEAM MANAGER
Sam Allardyce may have just taken the head coaching position at a struggling Sunderland side, but he thinks he should have already been coaching at the next level — the international level.
The English Premier League bottom-feeders confirmed his appointment Friday, but Allardyce, 60, said that if the English national team has an opening in the near future, he should be a strong candidate to get the job.
"I should have got ( the job in 2006) and, as I'm a better manager now than I was then, I believe I should be in the running whenever it comes round again," he said in his autobiography. "That's not vanity or being full of my own importance. My track record entitles me to be considered. I'm ambitious and I still want the England job, but I have less chance now even though I'm better equipped to do it."
Sunderland is currently 19th out of 20 English clubs with three points after eight games played.
QUICK KICKS:
With fans and critics calling for Brazil winger Willian to lose his starting role against Venezuela Tuesday, the Chelsea attacker said everyone is trying to do their best. (REPORT)
Newcastle goalkeeper Tim Krul is ruled out for the entire 2015-16 season after suffering a knee injury with Netherlands. (REPORT)
Liverpool manager Jurgen Klopp says he won't go after Borussia Dortmund stars to improve roster. (REPORT)