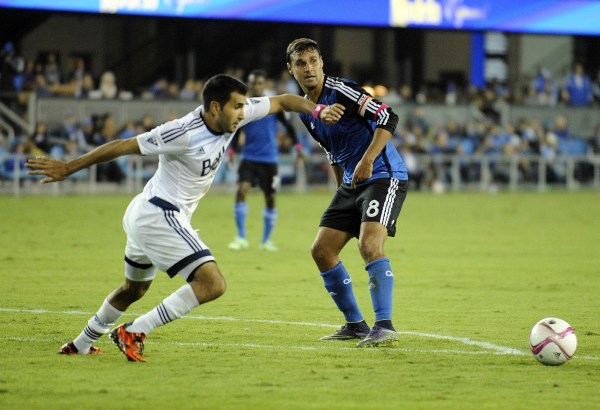 Photo by Gary A. Vasquez/ USA Today Sports
By SBI SOCCER
For the time being, the San Jose Earthquakes are above the red line.
A Chris Wondolowski equalizer earned the Earthquakes a 1-1 draw with the Vancouver Whitecaps Saturday at Avaya Stadium.
With the point, the Quakes leapfrog the Portland Timbers into sixth place in the Western Conference, although the former have played an extra game. The Whitecaps, meanwhile, remain second in the West, just one point behind the LA Galaxy.
Wondolowski's leveler came in the 62nd minute as the Earthquakes forward buried a rebound from close range.
Darting down the right side, Cordell Cato fired an effort on goal, but straight at David Ousted. The Whitecaps goalkeeper uncharacteristically failed to control, dropping the ball straight into the path of Wondolowski, who smashed his shot into the back of the net.
The Quakes forward's effort canceled out a 39th minute finish from Cristian Techera.
Following a misplaced clearance in the Earthquake box, Techera found the ball at his feet. Dribbling around a pair of sliding defenders, Techera fired a shot that was deflected into the air and into the back of the net, giving the Whitecaps the first half lead.
The Whitecaps had chances to increase that lead and forced David Bingham into making four saves on the evening. Yet it was not to be, as the Whitecaps had to settle for just one point due to Wondolowski's leveler.
Following the draw, the Earthquakes return to action October 16 against Sporting KC at Avaya Stadium, while host FC Dallas on Wednesday.